Robert F's Smile in a Day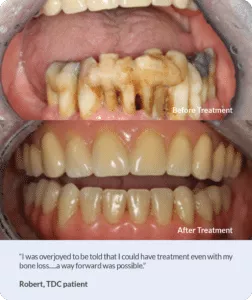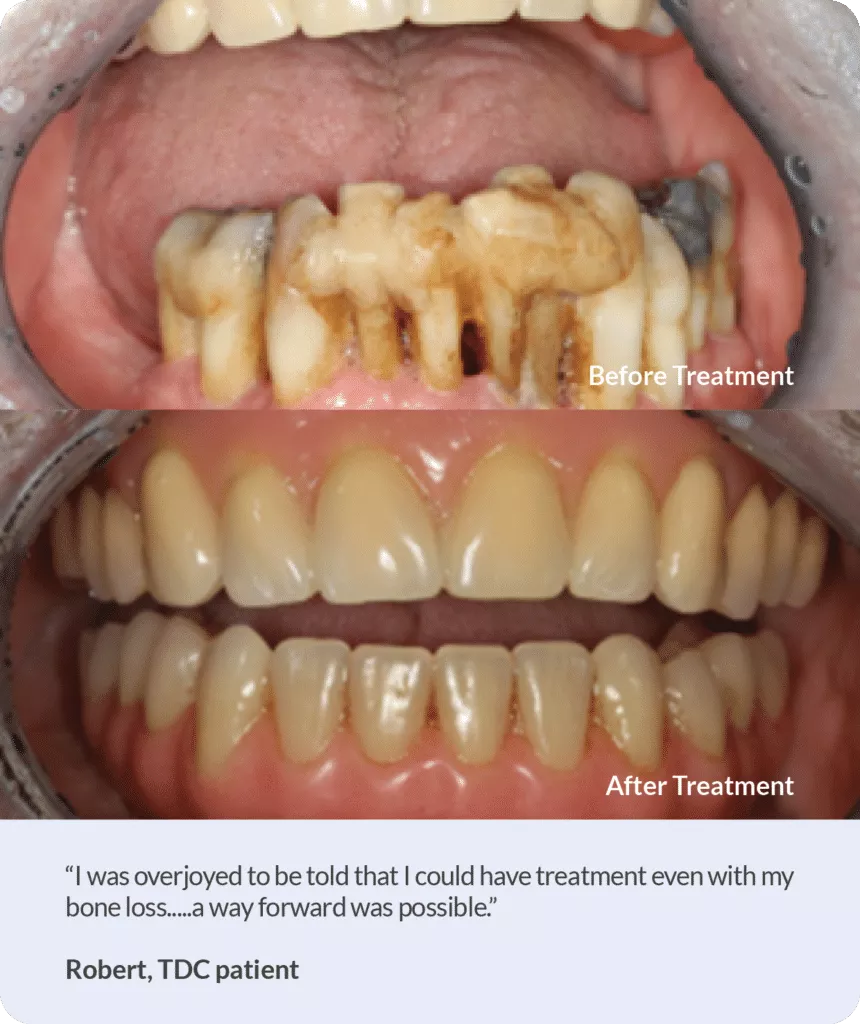 Robert Frost had his full lower jaw of teeth replaced with Smile in a Day dental implants at the TDC Implant Centre in London Harley Street.
My background
'I am 72 and had been a heavy smoker since my youth.
I finally managed to give up in the year 2000 (a single session of hypnotherapy, in Harley Street, as it happens).
By that time the damage had been done – my teeth were in a bad way and my gums were receding.
My top teeth eventually became loose and were extracted in 2008 and replaced by a denture, which I still have.
My bottom teeth were little better and to retain them for as long as I could, the middle four were 'bonded' together.
Now and again one or more would 'break loose' and require visits to my ever-patient dentist. Meantime, my remaining teeth got gradually worse, and the gums further receded.
Each year that passed made me more and more depressed.
I was unable to eat many of the foods I had previously enjoyed, and I avoided chewing in a vain attempt to keep my remaining teeth in place.
My teeth looked awful, and I was embarrassed in company.'
I was convinced that nothing could be done for me
'I had convinced myself that, because the gums had receded so much, any denture which I might eventually need would not stay in place due to bone loss and that I wouldn't be suitable for dental implants. These thoughts made me both upset and irritable and I could not foresee any great future for myself.
Eventually I convinced myself that something needed to be done and so looked online for options.
TDC's site came up and having read their 'blurb' and having got over the initial shock of the price (yes, it is expensive but ended up being one of the best investments I could have made for myself), I decided to go for an initial consultation – mainly to confirm my fears that bone loss would prevent treatment.
I did find other websites offering similar results but there was something that convinced me that if I was going to spend my savings on a way forward it should be 'from the best'.
My initial consultation at TDC
'I made my first visit to TDC Harley Street and was immediately impressed with Anthony's positive approach to my case.
Professional and friendly, he led me through the procedures and allowed me ample time to talk through my concerns.
I was really put at ease and felt like they really did care.
A way forward – even with my bone loss
I followed up with the CT scan and was overjoyed on my next visit to be told that I could have treatment even with my bone loss.
From that point there was not much of a decision to be made – the expense was forgotten (to an extent) and replaced by the thought that a way forward was possible. I decided to go ahead.'
Surgery day – a whole new set of lower teeth
'The day of the 'operation' came – the day when my dental implants and a full lower jaw of new teeth would be placed.
My wife was very concerned as I didn't seem worried about the surgery as I am usually quite jumpy and tense when I have dental treatment, but at TDC I didn't feel like that.
I knew exactly what was going to happen as it was all thoroughly explained.
I met Michael (Specialist Periodontist Dr Michael Zybutz, TDC's Lead Surgeon) and Nico, the anaesthetist, as I had decided to opt for 'conscious sedation' which made the whole thing painless.
All aspects of the operation were brilliant. I was so impressed, everything was laid out and communicated well.
Yes, it was a long day, but I never felt anything other than confidence in the whole team.
I left with a whole set of fixed bottom teeth and a happier future to look forward to.'
After surgery
"After the surgery, my wife and I went back to the hotel where I ate a whole tub of ice-cream!
I had a small amount of discomfort as you would expect after a dental procedure, and a little bit of bruising for a few days afterwards, but nothing to worry about.
I've still got my first temporary teeth* and I'll be ecstatic if my permanent set look like these!"
"The change to my life has been brilliant."
'The truth is, it has made a huge difference and I wish I'd made the decision to do it earlier.
Before having my implants at TDC, I'd have to choose food I didn't have to chew if I went to a restaurant.
Now I can eat what I want, stuff that I haven't eaten in years.
My outlook has changed.
I wake up in the morning and face life without continual worry about my teeth.
Subconsciously it always affected me.
And I think my wife is happy. The worry when my bonded teeth got loose made me a bit uppity – now she says I look a bit like a film star. That's a bit of a boost!"
I wanted to keep it a secret – now I'm happy to talk about it!
'One thing that had concerned me was friends finding out about that I had dental implants.
I had threatened my wife 'on pain of death' to keep the whole thing secret, such was my embarrassment about my teeth and dentures.
But as with all things, the secret got out and I realised that I wasn't as upset as I thought I would be.
The end result was so good – my teeth looked so good – that I was absolutely fine when people asked me about it.
A better future to look forward to
And that is the thing; my confidence has been restored and my future looks so much improved.
I only wish I had made the decision many years earlier."
You won't regret it
"If anyone is considering Smile in a Day treatment at TDC I'd be very happy to have a word and share my experience.
I was 100% happy from start to finish.
The care at TDC is really professional and friendly. You won't regret it.'
About TDC Smile in a Day
*With TDC Smile in a Day, your first fixed set of teeth is placed on the same day as your dental implants.
They remain in place, night and day like natural teeth, until they are exchanged for the final long-lasting set at a non-surgical appointment after about 3 months, once your bone has integrated with the implants.
This ensures a perfect fit with the newly settled gums and allows any requested refinements to ensure the perfect aesthetics.