Robert's Smile in a Day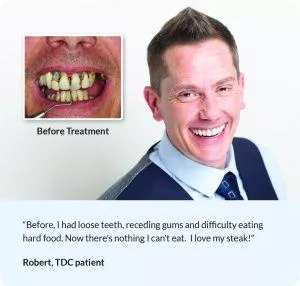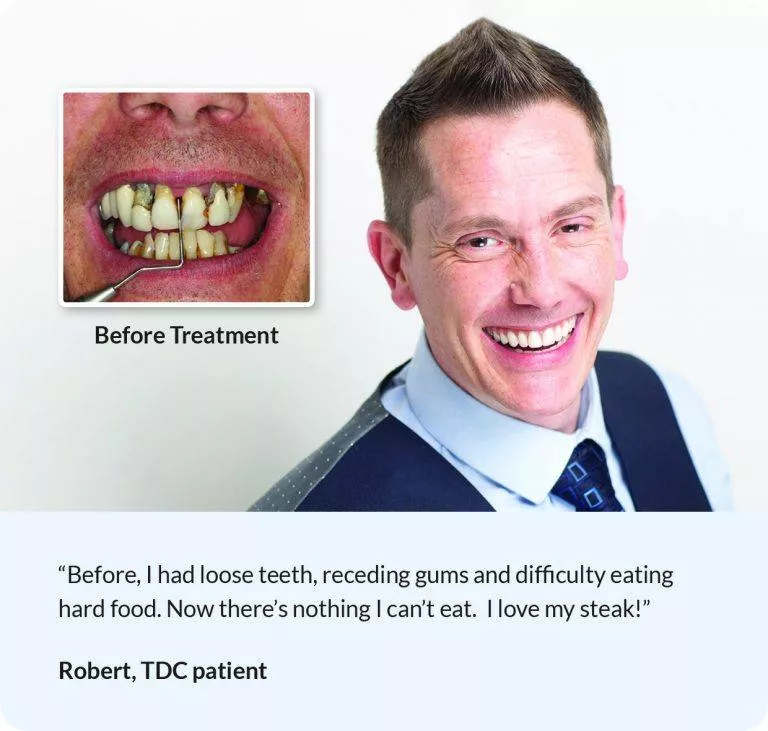 "I had loose teeth, receding gums and difficulty eating hard foods.  As soon as I started to lose my front tooth, that was the point of no return.  I had to have dental implants".
TDC patient Robert Reeve wanted to make sure that he took time to find the right solution, and the right dental team, to solve his worsening dental problems.
"I heard the ad for TDC Smile in a Day on LBC and that was the attraction – that I could go in for implant surgery and come away on the same day with teeth.
I didn't want dentures and I didn't want implant treatment that was a much longer process.  Smile in a Day was the solution.
But I did a lot of research before I made my decision.  I looked at the TDC website, read the case studies and watched the videos.
I researched other companies too, to see which was the best one for me.  And I looked at the options of going abroad due to the cost of dental implants.  But the reassurance of being in the UK if anything went wrong, and getting the service, that was important to me.
Harley Street has a reputable name, TDC have a reputable name, so I thought: "It's the place to be."
The first time I went for my consultation at TDC I was looking for reassurance and knowledge.
I was at a point where my teeth were in such a poor condition that they were going to fall out anyway, but it's still a big decision to make. And I was concerned that I wouldn't be suitable.
I asked a lot of questions and I even came back on a second occasion for more reassurance. All my options were fully explained."
The procedure
"Although I'm not really a nervous patient, I was slightly apprehensive on the day of surgery, but I met my surgeon, my anaesthetist and the whole team. Everyone was very friendly and professional."
As Robert was having both his upper and lower teeth restored, Dr Michael Zybutz placed the implants in both jaws, and later the same day Robert was fitted with full sets of temporary fixed teeth that stayed in place night and day during the healing period.
"Obviously they were the temporary teeth on the day, but I was really happy – I was impressed.  I could literally walk away with a smile.
I walked in one morning and walked out with a full set of teeth – top and bottom.  So it can be done in a day! I'm proof of that."
And three months later Robert's temporary teeth were exchanged for his final, permanent teeth at a non-surgical appointment, ensuring a perfect fit once his gums had settled.
"I go round smiling now!"
"When you meet someone, the first thing they do is look at your teeth and facial shape – and when you have teeth problems you tend not to give a great smile. I used to worry about what people thought of my teeth.
Now I tend to smile a lot! I go round smiling – in every photograph I see, I'm smiling now!
My friends and family were shocked, even a bit jealous, as they knew what my teeth were like before. None of them wants to stand next me in photos when I'm smiling!"
Positive life changes
"There's nothing now that I can't eat. Sweetcorn used to be definitely off the menu for me, now nothing's a challenge.  I could have eaten solid food on the first day, but I took it easy and worked my way up to crunchier, harder food. I love my steak!
Looking back, it was definitely worth having Smile in a Day treatment.  Dental implants cost is not cheap, but this is your life, your future.  Sometimes there's no price to put on that.
And then there's the eating – do you want to spend your life eating soup?!  It's worth it.
I can sum up TDC in one word: "Excellent". The care was fantastic, I couldn't have asked for anything more."
If you would like to see how Smile in a Day could help to restore your teeth and smile, you can book your free consultation* here or by calling 02035536415.  We have TDC Implant Centres in Harley Street, Folkestone and Peterborough.