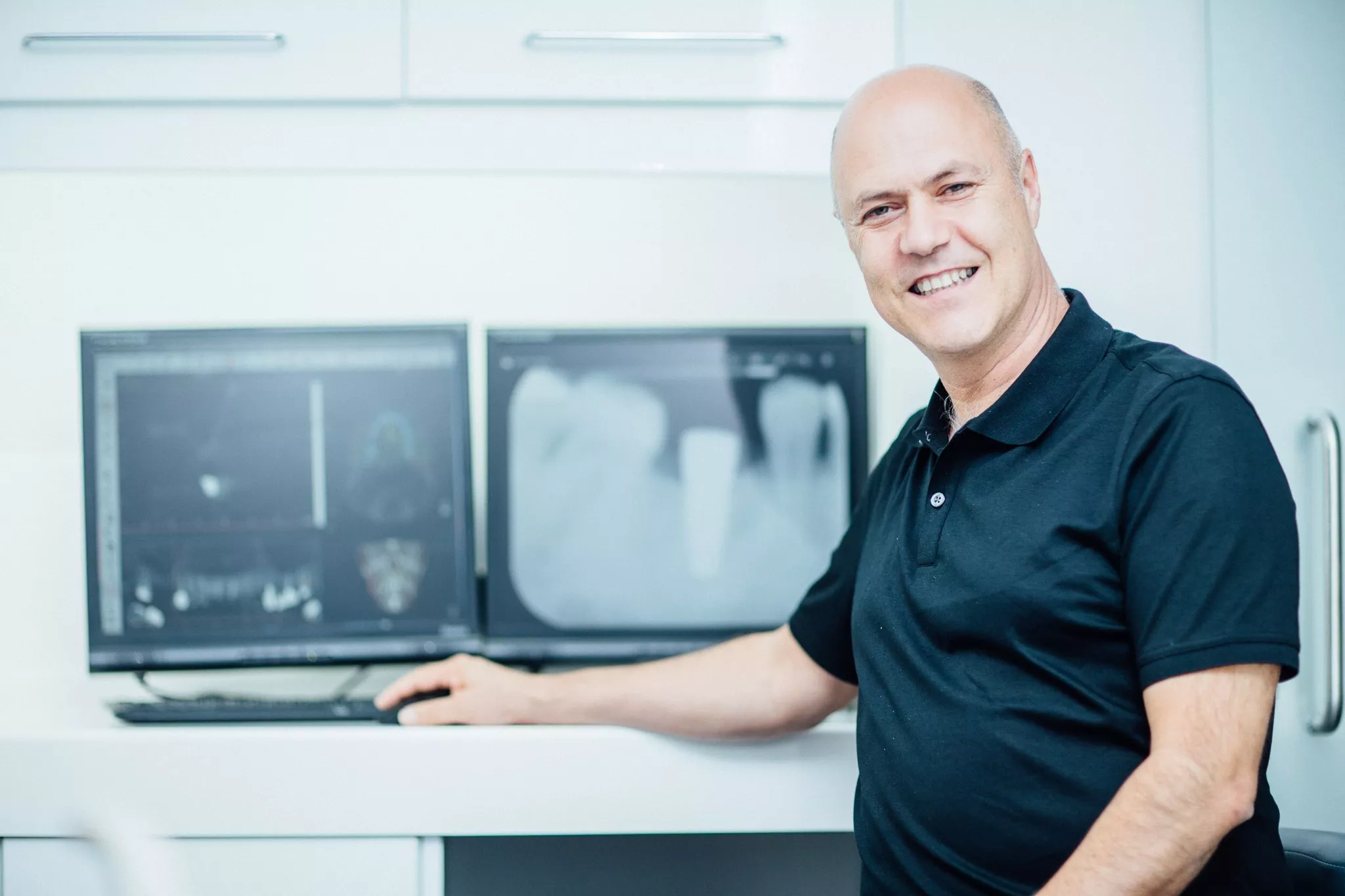 Dr Michael Zybutz BDS (Rand) MSD (USA) Cert Perio (USA)
Specialist Periodontist / Lead Surgeon
Harley Street, Folkestone, Peterborough
GDC registration number 58807
 'I'm fortunate to have been able to hand-pick a team of the very best people, all of whom share my commitment to achieving excellence and making a real difference to our patients' lives'
Dr Michael Zybutz, Specialist Periodontist and Lead Surgeon at Total Dental Care (TDC) Implant Centres, was awarded a Bachelor of Dental Surgery degree at the University of the Witwatersrand in South Africa and earned his Masters degree in Dentistry at the University of Washington School of Dentistry.
The only Specialist Dentist in the UK accredited by the American Academy of Cosmetic Dentistry, he has been placing dental implants in the UK for over 25 years.
Dr Zybutz has trained dentists at both undergraduate and postgraduate level, and continues to lecture on implantology internationally. He is the past President of The American Dental Society of London.
Dr Zybutz is well-known for his appearances on TV, appearing with his brother, Advanced Aesthetic Dentist Dr Anthony Zybutz, on the Discovery Channel and Channel 5's Botched Up Bodies as experts reversing the effects of poor dental work.
Dr Zybutz is also:
You are a Specialist Periodontist – what does that mean?
As a Periodontist, I specialise in the area of dentistry that is to do with the gums, roots and bone surrounding the teeth and the placement of dental implants.
To become a Specialist, I was required to undertake three further years of specific training after finishing my dental degree.  Only then could I register as a Specialist with the General Dental Council.
What made you decide to specialise in implantology?
Dental implants were an exciting field of innovation when I was a general dentist.  I went on a number of courses in the late 1980's and early 1990's where I learned how to place implants.
How is the TDC Smile in a Day technique different to traditional implant procedures?
TDC Smile in a Day is an advanced and highly skilled technique where dental implants and a full set of fixed, natural-looking teeth are placed in a single day.
In short, the multiple surgical procedures (extractions, bone grafts, implant placement) and months of healing time that are needed with traditional implant procedures can be condensed into a matter of hours. Patients literally leave at the end of the surgery day with secure, fixed teeth that look, feel and function just like natural teeth.
How can you do it in a day – and is it safe?
In the right hands, it is a very safe and clinically-proven procedure with results that meet and exceed traditional implants.  At TDC, with our specialist knowledge and 25 years' experience in placing implants, we successfully treat hundreds of patients every year.
The technique usually uses four implants in each jaw.  They are placed at very precise angles to maximise the use of existing bone.  This eliminates the need for bone grafting. On the day of surgery, we place the temporary teeth on special bridges that help to speed up the healing process. These teeth cannot be removed by the patient – they are fixed in the mouth, just like normal teeth. The final set of permanent fixed teeth are placed three months later once the implants have integrated with the bone and the gums have healed.
What is your role in the procedure?
I am the Lead Surgeon at TDC Implant Centres, so I perform any extractions, then place the dental implants – all on the day of surgery.  The majority of our patients require full upper or lower jaws of implants and teeth, and often both.
My brother Anthony (below with Michael and the Harley Street team), or one of our other highly-qualified dentists, places the teeth on top of the implants a few hours later.  They ensure a perfect fit, function and appearance – and a beautiful natural-looking smile!
How do you assess patients to confirm that they are suitable for the TDC Smile in a Day same day implant treatment?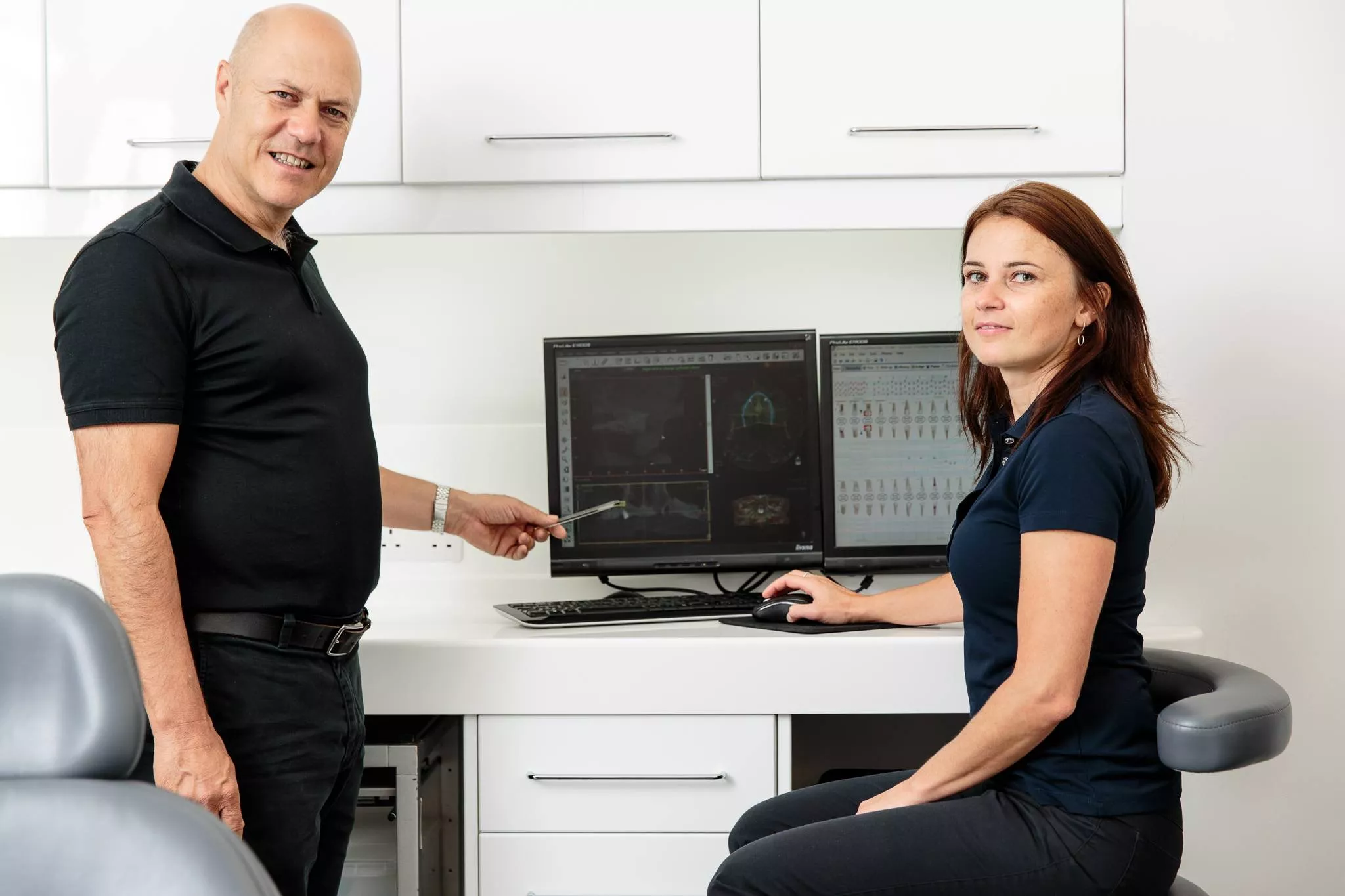 When patients come for their first consultation, they are examined by one of our highly trained implant dentists. If the dentist feels the patient is likely to be suitable, the next step is for the patient to have a CT scan which gives very detailed images of the bone.  This enables us to assess what is not visible to the naked eye and to agree the best treatment options for the patient. We also look carefully at the patient's medical history.
Can you treat people with severe bone loss?
We routinely treat patients who have been told that nothing can be done for them – even patients with extreme bone loss.  We are one of the few centres that can place zygomatic, or cheekbone, implants.
What is the most rewarding part of your job?
Being able to make such a life-changing impact on people's lives is very rewarding. And I love working with my team – they all care as much as Anthony and I do.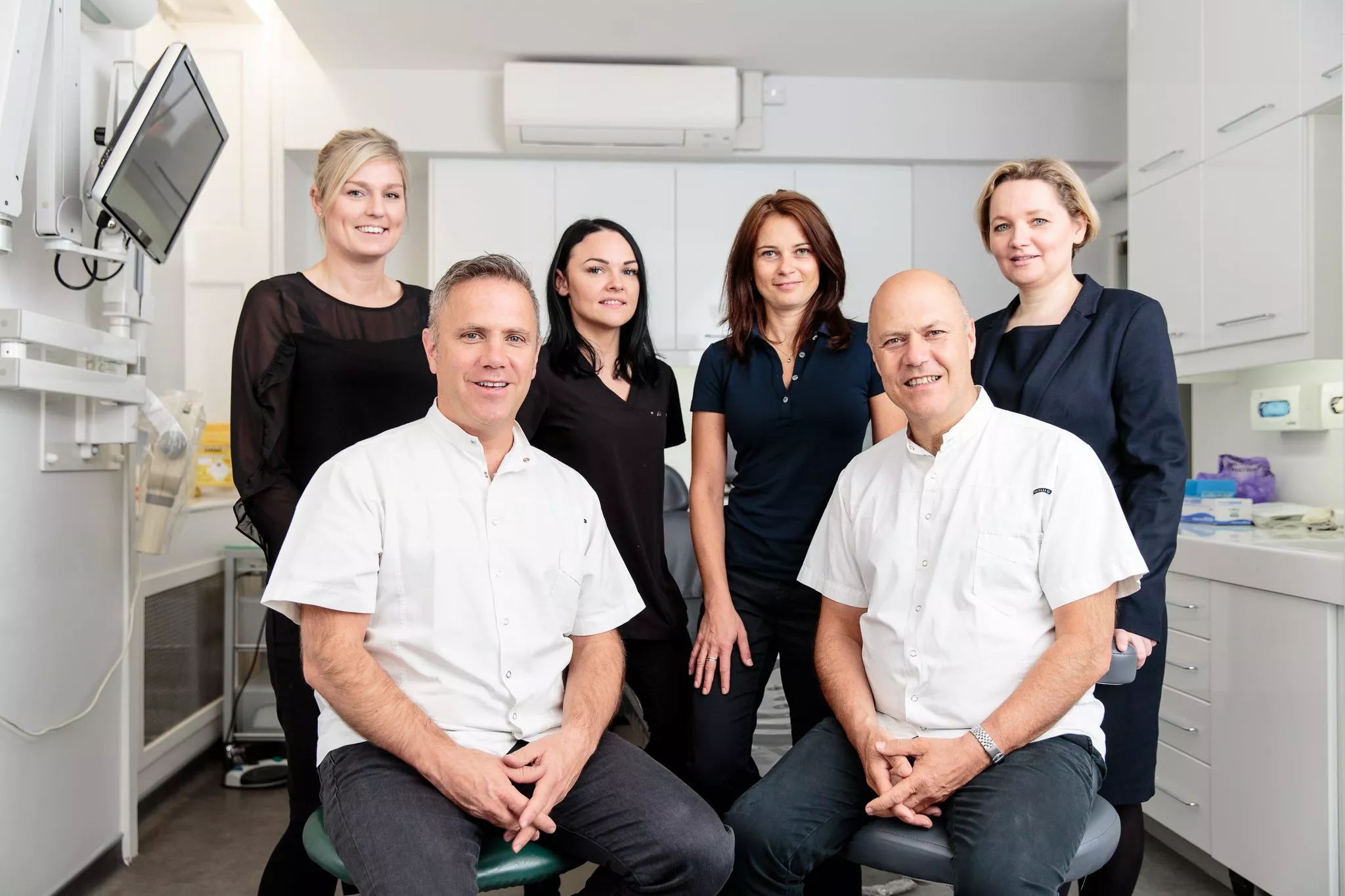 What advice would you give to people considering same-day implants?
This is a procedure that can literally transform your life – it is a big investment in your well-being so I would say it's important to make sure that you have real confidence in the skills and experience of your dental team before you go ahead.
Again, on this note, I would encourage anyone considering same-day implants to take a look at independent reviews on online platforms such as TrustPilot or Feefo. These reviews are written by patients and cannot be edited by anyone else.  TrustPilot and Feefo are companies that ensure reviews are independent – use them! Also, take time to watch testimonial videos.