Karen's Smile in a Day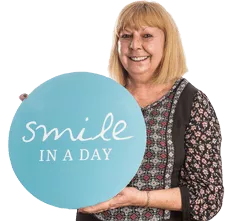 Total Dentalcare (TDC) patient Karen had been very unhappy with her teeth for years.
They were gradually falling out, making it difficult to eat, and she always covered her mouth with her hand so people didn't see them.
"I'd been losing my teeth for years but the idea of having no teeth and putting my dentures in a jar by the bed seemed like a ghastly option that I wanted to avoid at all costs," says Karen.
"I really didn't like my smile.
And having loose teeth made eating really difficult ‒ I was always frightened that my teeth would fall out, and had to cut everything up into tiny pieces."
"I had complete trust in Dr Zybutz"
"My usual dentist told me that the only way I could have dental implants was through bone grafting, but I didn't like the idea of bone being taken from my hips and placed into my sinuses.
When I found out that Total Dental Care Implant Centre could do dental implants without bone grafts, I went for a consultation.
I was told I'd have to have all my top teeth taken out and, because I didn't have enough bone on one side for a normal implant, I'd have to have a cheekbone implant instead.
Dr Michael Zybutz is one of only a handful of implant surgeons in the country who can perform this procedure, but I had complete trust in him.

I was worried that the surgery would be painful, but it wasn't.
One minute they were getting me ready, then it was all over. It was amazing.
The entire team was wonderfully professional and caring.
I know Smile in a Day is a complex treatment but you wouldn't know it because they have such confidence in what they're doing that it makes you feel confident, too.
They must be among the best dentists in the world."
"Even strangers compliment me about my teeth"
"I love my new teeth and absolutely everyone thinks they're wonderful.
I was on a plane recently and an air steward came up to me and said: "Oh, haven't you got a lovely smile!"
That was so nice to hear.
I look so much better in photos now – it was definitely worth every penny."