Jonathan's Smile in a Day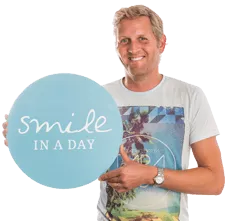 Jonathan Anderson was terrified of going to the dentist as he'd endured a string of botched dental procedures that had left his mouth with unsightly, and often excruciatingly painful, teeth.
'After my wisdom teeth were extracted I was left with infected and rotting teeth,' says Jonathan, 39, from Dorset.
'Crowns were falling off, and when I knocked out my front teeth while windsurfing, my dentist replaced them with what I can only call yellow tombstones. I was also in constant, often unbearable, pain. It was a living nightmare: I cancelled a holiday because I was rushed to A&E, and when I got married, I didn't smile in the photos because I didn't dare open my mouth.'
'They're in a different league to other dentists'


'The moment I met Dr Anthony Zybutz and his team at Total Dental Care Implant Centre I knew straightaway they were in a completely different league to anyone I'd consulted before – the absolute best of the best.'
'If anyone was going to succeed, I knew it would be them. They're award-winners for innovation, but they're also the nicest people you could wish to meet.'
'Every dental appointment I'd had for years had left me in pain, so of course I was nervous, but during the surgery you're under sedation so it's like being in a nice soft bubble.
'There's no pain at all, and it feels like it only takes a few minutes. I was also very impressed with the aftercare. The dentists went beyond the call of duty, staying with me until 10.30pm that night. They said I could call their mobile any time in the night if I needed them.
'Seeing my new smile in a mirror for the first time was amazing: it was like someone showing me a photo of what I looked like years ago. Before I had the surgery I wouldn't even smile at social events whereas I actually wanted to be the life and soul of the party. Smile in a Day has helped me become the outgoing person I always used to be.'