Jonathan's Smile in a Day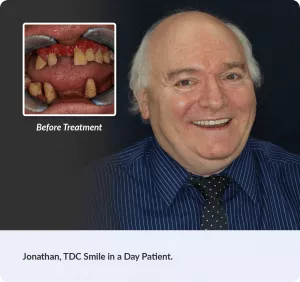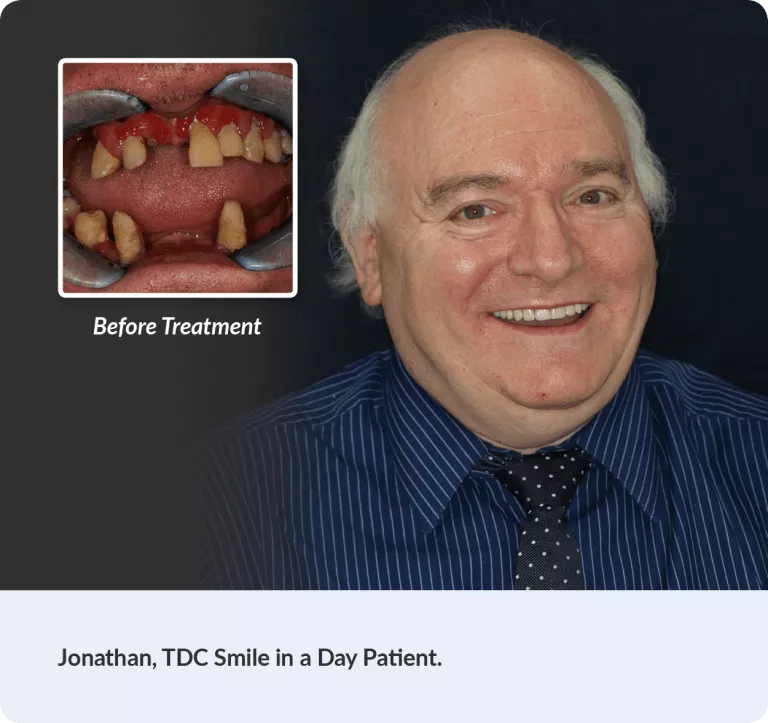 "It's about priorities, and I was investing in my health".
Pharmacist Jonathan Winton had his double arch Smile in a Day treatment in 2015 after hearing a radio ad for TDC Implant Centres on LBC.
"I had become increasingly concerned as my teeth began to loosen over time. I'd lost a few teeth and was gradually losing more, one by one," says Jonathan.
"I always worried about eating certain foods. I had to avoid hard fruits and I struggled to eat steak.
Eventually it become unmanageable and I knew my teeth needed replacement. I really wasn't happy".
So, after hearing the radio ad, Jonathan made an enquiry and booked a consultation with TDC Lead Dentist, Dr Anthony Zybutz at the Harley Street centre.
"I came out feeling really pleased that I'd had the consultation, and that it was the right treatment for me.
I knew I wanted it done. I didn't feel the need to look at other companies – I felt so comfortable that I just felt it was right. They really looked after me."
Teeth in just one day
"I hadn't realised that it could all be done in a day (the implant placement and a full set of fixed temporary teeth) until Anthony told me.
On the day of surgery, I went in early in the morning and waited to be picked up in the early evening."
Living with new teeth and a new smile
"What really surprised me was the difference made to my life. There's no more pain."
Jonathan also found that the problems he'd previously had with eating had disappeared.
"I now eat a couple of bags of apples a week! I can eat everything I want, whereas I was so worried before.
And I was really surprised by the change in my energy levels.
I'd go to work early and felt like I could work all night and all day. I don't know if it was because I no longer had infections, but I no longer felt so tired. My energy levels really went up."
Renewed confidence
"I smile more now," says Jonathan, "and I feel more confident at work when I'm facing the public every day.
It is an expensive treatment, but it is worth it – like an investment in a good car. It's about priorities, and I was investing in my health."