Shannon's Smile in a Day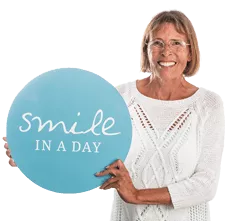 Shannon Crisp* was so unhappy with her teeth that when she applied lipstick she'd avoid looking at her mouth so she wouldn't see what she described as 'an awful smile'.
Gum disease meant eating was always painful, and it had left her with so few teeth that she often slurred her words.
'I'd had bad experiences with dentists as a child,' says Shannon. 'I suffered from gum disease and treatment was often so painful that I developed a dental phobia.'
'The final straw came decades later when my dentist suggested making some of my teeth appear longer so they matched those that were already hanging too low because of my receding gums. That would've made me look like Bugs Bunny, and there was no way I was going to let that happen!'
'Instead, I contacted Total Dental Care Implant Centre for help and everyone there was so supportive that I immediately lost my fear and had total confidence in them. I knew I definitely wanted the treatment, the sooner the better.'
'There was no pain at all'
`Despite what the procedure involved, there was no pain at all ‒ I could respond to questions but didn't feel anything.'
'And the aftercare at TDC was superb. In the past I felt my dentists hadn't looked after me properly, but Anthony worked with incredible gentleness.'
'My teeth are now completely pain free and I can once again eat steak and all the other foods I love. My dental implants look exactly like the real thing and I'm delighted with my new smile. It feels completely liberating and has given me my confidence back.'
*Name has been changed.