Robert's Smile in a Day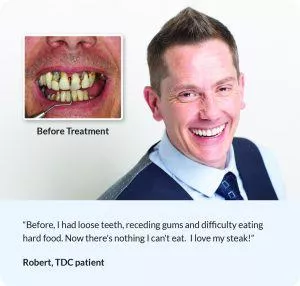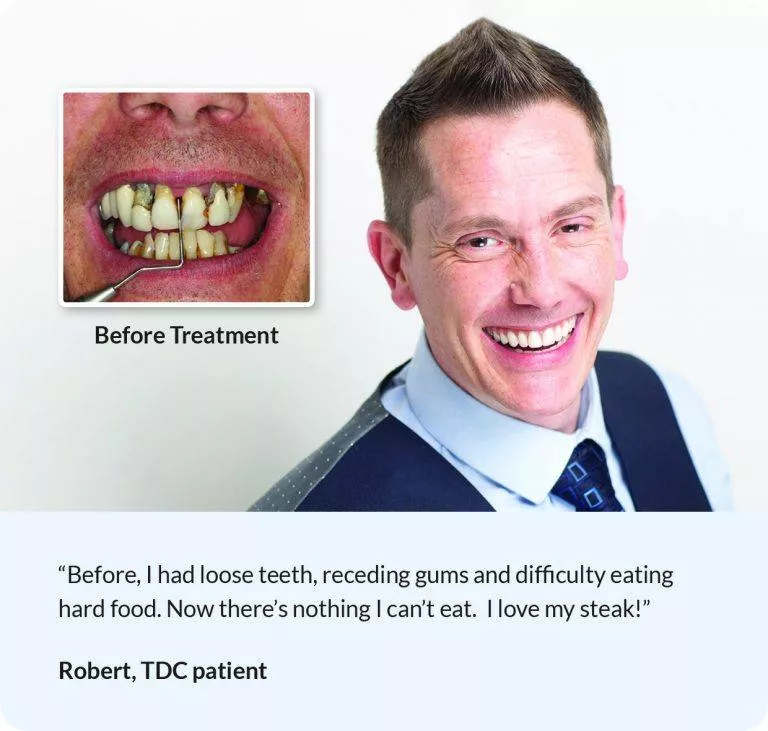 "I had loose teeth, receding gums and difficulty eating hard foods.  As soon as I started to lose my front tooth, that was the point of no return.  I had to have dental implants".
TDC patient Robert Reeve wanted to make sure that he took time to find the right solution, and the right dental team, to solve his worsening dental problems.
"I heard the ad for TDC Smile in a Day on LBC and that was the attraction – that I could go in for implant surgery and come away on the same day with teeth.
I didn't want dentures and I didn't want implant treatment that was a much longer process.  Smile in a Day was the solution.
But I did a lot of research before I made my decision.  I looked at the TDC website, read the case studies and watched the videos.
I researched other companies too, to see which was the best one for me.  And I looked at the options of going abroad due to cost.  But the reassurance of being in the UK if anything went wrong, and getting the service, that was important to me.
Harley Street has a reputable name, TDC have a reputable name, so I thought: "It's the place to be."
The first time I went for my consultation at TDC I was looking for reassurance and knowledge.
I was at a point where my teeth were in such a poor condition that they were going to fall out anyway, but it's still a big decision to make. And I was concerned that I wouldn't be suitable.
I asked a lot of questions and I even came back on a second occasion for more reassurance. All my options were fully explained."
The procedure
"Although I'm not really a nervous patient, I was slightly apprehensive on the day of surgery, but I met my surgeon, my anaesthetist and the whole team. Everyone was very friendly and professional."
As Robert was having both his upper and lower teeth restored, Dr Michael Zybutz placed the implants in both jaws, and later the same day Robert was fitted with full sets of temporary fixed teeth that stayed in place night and day during the healing period.
"Obviously they were the temporary teeth on the day, but I was really happy – I was impressed.  I could literally walk away with a smile.
I walked in one morning and walked out with a full set of teeth – top and bottom.  So it can be done in a day! I'm proof of that."
And three months later Robert's temporary teeth were exchanged for his final, permanent teeth at a non-surgical appointment, ensuring a perfect fit once his gums had settled.
"I go round smiling now!"
"When you meet someone, the first thing they do is look at your teeth and facial shape – and when you have teeth problems you tend not to give a great smile. I used to worry about what people thought of my teeth.
Now I tend to smile a lot! I go round smiling – in every photograph I see, I'm smiling now!
My friends and family were shocked, even a bit jealous, as they knew what my teeth were like before. None of them wants to stand next me in photos when I'm smiling!
Positive life changes
"There's nothing now that I can't eat. Sweetcorn used to be definitely off the menu for me, now nothing's a challenge.  I could have eaten solid food on the first day, but I took it easy and worked my way up to crunchier, harder food. I love my steak!
Looking back, it was definitely worth having Smile in a Day treatment.  It's not cheap, but this is your life, your future.  Sometimes there's no price to put on that.
And then there's the eating – do you want to spend your life eating soup?!  It's worth it.
I can sum up TDC in one word: "Excellent". The care was fantastic, I couldn't have asked for anything more."
If you would like to see how Smile in a Day could help to restore your teeth and smile, you can book your free consultation by clicking here or by calling 02035536415.  We have TDC Implant Centres in Harley Street, Folkestone and Peterborough.
Tina's Smile in a Day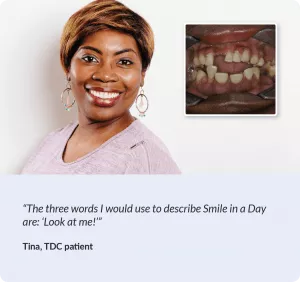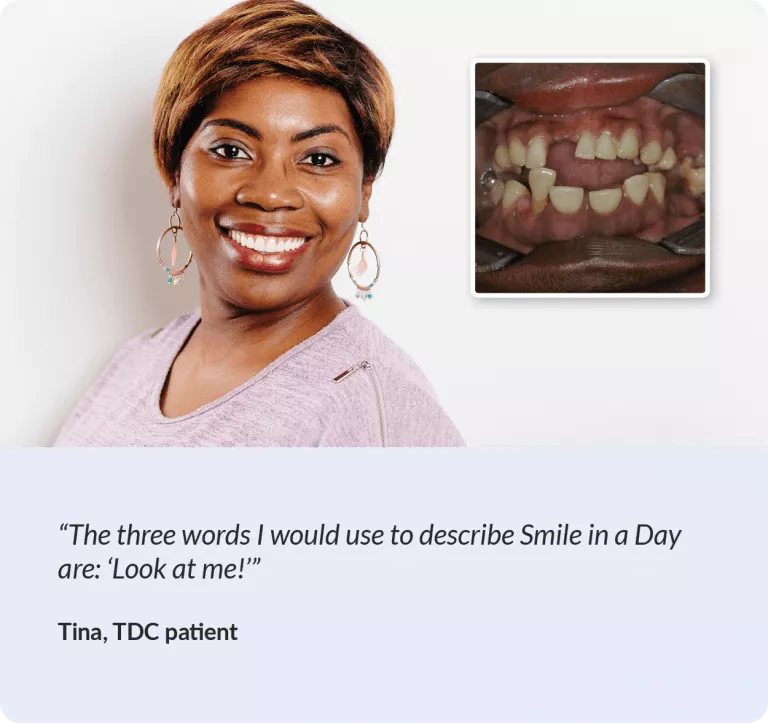 "Before I had my implants I didn't like how I looked. I didn't like my smile. I literally had nightmares about my teeth falling out. I felt scared."
Tina Cooke's dental problems started when she sucked her thumb as a child. Combined with gum disease, her protruding teeth just got worse and worse. And after being hit with a cricket ball in her face, her teeth were further loosened on one side of her mouth.
"After that my teeth got weaker and weaker. It was horrible.
I wanted to laugh and smile naturally, but the fact that my teeth didn't look so presentable, it kind of made me not want to show the real me."
Over time her gum disease worsened: "My gums used to bleed, they'd bleed a lot, especially when I brushed my teeth. I'd wake up with blood residue on my mouth."
"I felt embarrassed, knowing you have a deformity, having to show it to people."
Looking for a lasting solution
Tina had contacted other dentists and even visited her local dentist who told her that she would need to have all her teeth out and to wear dentures. "I went home and cried and cried."
"Then I saw an advert for TDC on Facebook: "I thought "Oooh! Smile in a Day! That sounds cool! I Googled TDC and visited the website. I viewed the testimonials and rang up for a consultation.
I met Anthony and he was patient. He let me speak, to explain how I had got to this stage, and he was very reassuring. That really made me feel very comfortable.
He could obviously see what my problem was, but he asked me to tell him my main reason for coming for the consultation. It took me a while to say the words: "I don't like my smile."
I came away from TDC and just thought "Yes!" It just felt right.
I decided to go that route – to have dental implants."
How Smile in a Day has changed Tina's life
Tina had her TDC Smile in a Day procedure in 2015.
"Before I had dental implants I was sociable, but as my teeth got worse I had become less sociable. I'd say yes when people asked me to go out, but I'd make up excuses not to go.
Since I've had my teeth done I feel more alive. I have much more confidence in myself, I'm able to talk to people more – I don't cover my mouth or turn my head away now.
I'm a person who likes to smile a lot – any little thing, I'll be showing teeth. I laugh at the silliest things as it makes other people feel good."
And it's a real bonus being able to enjoy food again.
"I love apples – when you bite one and get that crunch. I'd missed that! I'd missed the sound. And crusty bread!"
Getting real Tina back
"In the morning when I get up to go to the bathroom, I'll see myself in the mirror and think "Oooh, is that you Tina?! You're looking good today!"
"Once a person has a good smile, they radiate more confidence. That's me for sure."
If, like Tina, you would like to find a permanent solution to your dental problems, book your free consultation by clicking here or by calling 02035536415.  We have TDC Implant Centres in Harley Street, Folkestone and Peterborough.
Glenda's Smile in a Day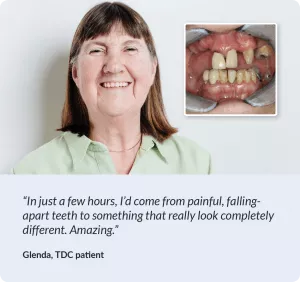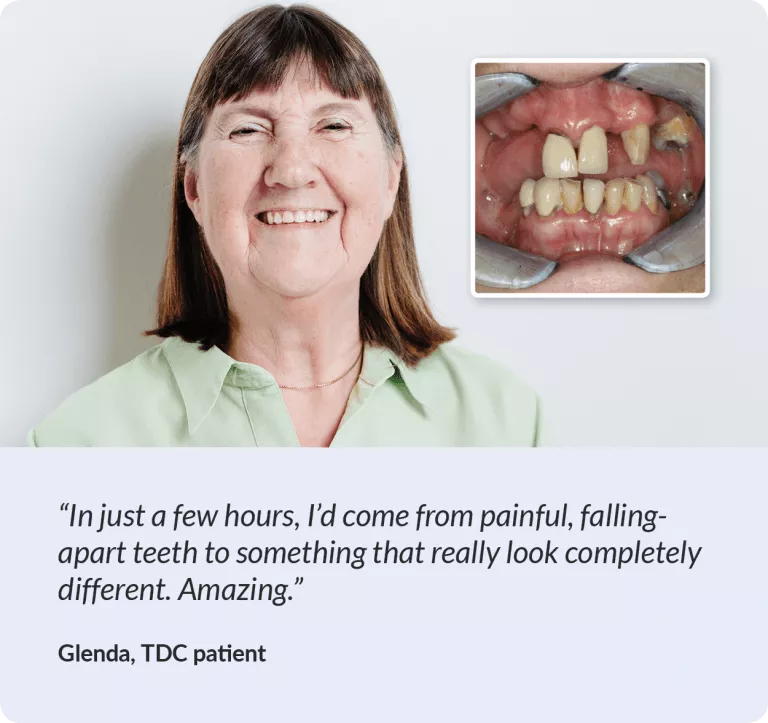 "In just a few hours I'd come from painful, falling-apart teeth to something that really look completely different. Amazing."
Following a recommendation from her dentist, Glenda Foster had her full set of upper teeth restored at TDC Implant Centres in Harley Street in 2016.
"Even though I'd been to the dentist every six months all my life, I'd had so many problems and complications over the years – with wisdom teeth, root canals, having crowns done and replaced.
And right at the front I had 2 baby teeth that weren't removed. So, when they fell out in my forties, I had to have a denture."
Glenda found that her dental problems increasingly affected her day to day life.
"My top teeth were so difficult to eat with and, more importantly, I was obviously "sissing" as people couldn't properly hear my name when I spoke on the phone.
I just made a decision that I needed to do this for the sake of my everyday life."
She came to TDC Harley Street to have her consultation with Dr Anthony Zybutz.
"Anthony was very good at explaining. He was caring, and confirmed that what I thought had to be done should be done. Plus, I was really pleased that TDC were able to do the procedure without sedation as I wanted to be awake during surgery.
Not being able to eat, not being able to talk properly – Smile in a Day dental implants were just the best option for me.
Surgery day
"It was done in a day. It was just great. It went smoothly from start to finish.
I arrived at midday – I had afternoon surgery as I was just having my upper teeth done – I went alone but was picked up to go home about 8pm.
I've had surgery before where it's taken a couple of hours for a single tooth, so to have the whole set done in 3 or 4 hours and get some teeth to come home with was great.
Even though they were just the temporary teeth they still looked really good. I couldn't believe that the temporary (fixed) teeth were so similar to the permanent ones that were placed three months later."
A change for the better
"My day to day life is the same as before except that I'm no longer in pain, and I can eat and speak properly. And people can understand what I'm saying. Before treatment everything was so wobbly or painful or difficult to eat with – afterwards it was just such a transformation.
I have more confidence when I eat now, and certainly I can eat nuts and apples and things I couldn't eat before with my top teeth.
I never did it for cosmetic reasons, although it looks much better for people speaking to me. It's a bonus that it looks so good."
Planning to have new bottom teeth
Glenda is now planning to have her bottom teeth restored with TDC Smile in a Day.
"My lower teeth are becoming more and more of a problem and I'd have to spend a lot of money getting them sorted out with root canals and crowns that might not even be successful, so I feel I just want to go ahead and get my bottom teeth done."
A personal investment
"It is a financial consideration, and I'm not someone who goes out and spends a lot of money on clothes or eating out.
Having my top teeth done was a one-off for me, and doing it again for my bottom teeth is something very special. But I feel it's your everyday life, and what's the point if you can't carry on being fairly normal as you get older?
I never thought about going abroad. You hear about people doing different things and having complications, and you just feel you want to have it done properly.
Michael and Anthony are a great team being brothers – they instinctively work so well together as surgeon and aesthetic dentist. I could feel how smooth the liaison was with my treatment.
Everybody at TDC has been fantastic. Very caring. Each person understands their role in the procedure, and the aftercare is just as good as the consultation and treatment.
You feel like you're in the right hands."
If, like Glenda, you would like to find a permanent solution to your dental problems, book your free consultation by clicking here or by calling 02035536415.  We have TDC Implant Centres in Harley Street, Folkestone and Peterborough.
Jonathan's Smile in a Day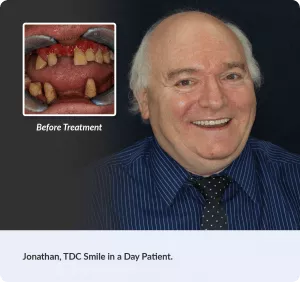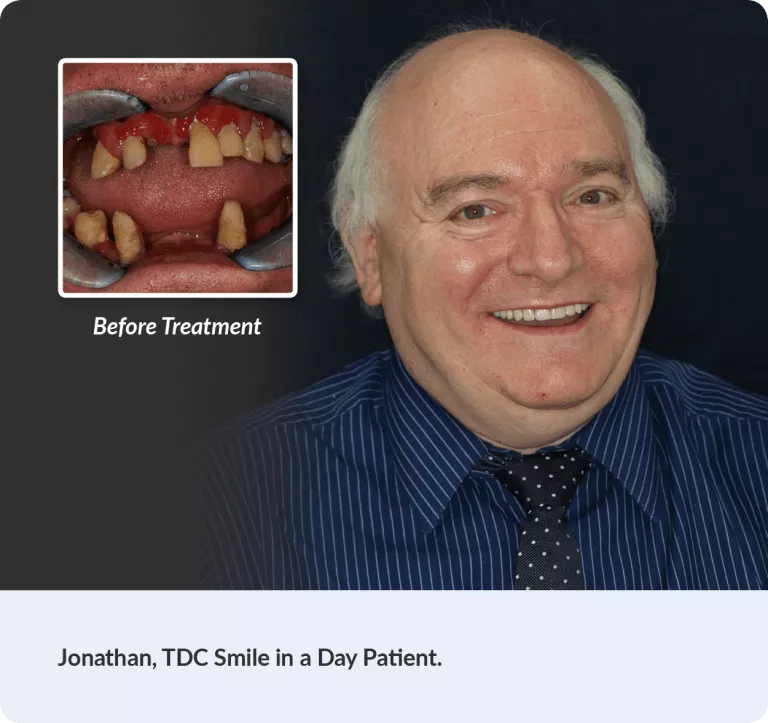 "It's about priorities, and I was investing in my health".
Pharmacist Jonathan Winton had his double arch Smile in a Day treatment in 2015 after hearing a radio ad for TDC Implant Centres on LBC.
"I had become increasingly concerned as my teeth began to loosen over time. I'd lost a few teeth and was gradually losing more, one by one," says Jonathan.
"I always worried about eating certain foods. I had to avoid hard fruits and I struggled to eat steak.
Eventually it become unmanageable and I knew my teeth needed replacement. I really wasn't happy".
So, after hearing the radio ad, Jonathan made an enquiry and booked a consultation with TDC Lead Dentist, Dr Anthony Zybutz at the Harley Street centre.
"I came out feeling really pleased that I'd had the consultation, and that it was the right treatment for me.
I knew I wanted it done. I didn't feel the need to look at other companies – I felt so comfortable that I just felt it was right. They really looked after me."
Teeth in just one day
"I hadn't realised that it could all be done in a day (the implant placement and a full set of fixed temporary teeth) until Anthony told me.
On the day of surgery, I went in early in the morning and waited to be picked up in the early evening."
Living with new teeth and a new smile
"What really surprised me was the difference made to my life. There's no more pain."
Jonathan also found that the problems he'd previously had with eating had disappeared.
"I now eat a couple of bags of apples a week! I can eat everything I want, whereas I was so worried before.
And I was really surprised by the change in my energy levels.
I'd go to work early and felt like I could work all night and all day. I don't know if it was because I no longer had infections, but I no longer felt so tired. My energy levels really went up."
Renewed confidence
"I smile more now," says Jonathan, "and I feel more confident at work when I'm facing the public every day.
It is an expensive treatment, but it is worth it – like an investment in a good car. It's about priorities, and I was investing in my health."
Rebecca's Smile in a Day – as seen on TV
"My husband says I haven't stopped smiling. I can't help it – I hadn't smiled for twenty years!"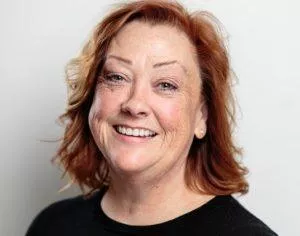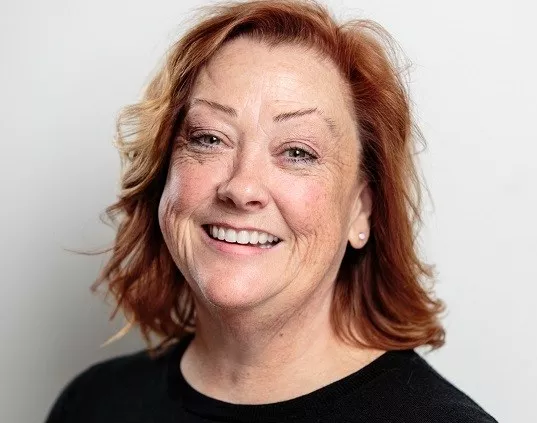 These are words that TDC patient Rebecca never thought she'd hear herself say. But in May 2018 she was seen having her smile restored by Drs Michael and Anthony Zybutz on life-transformation TV show "This Time Next Year".
"After years of misery caused by loose, crumbling and missing teeth, I got a whole new set of teeth and a beautiful, natural-looking smile – on one day."
"Thanks to Michael, Anthony and the wonderful team at TDC who performed their Smile in a Day procedure, it was possible."
Many years of dental problems
Visits to the dentist were not a frequent thing when Rebecca's grew up in America and she developed a real fear of the dentist's chair after bad experiences as a child. Problem teeth were simply extracted, and she found herself as an adult in constant dental pain and embarrassed to smile.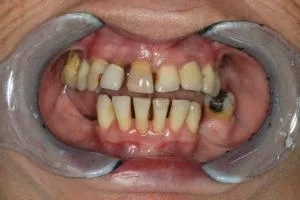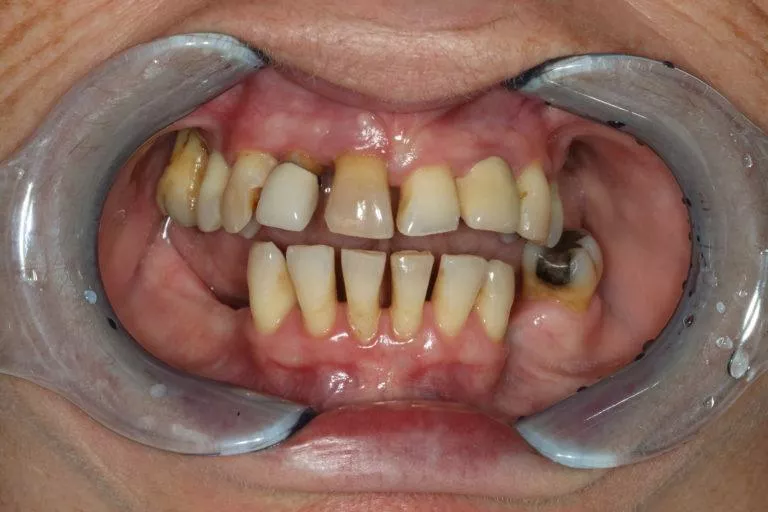 "I couldn't chew. I couldn't eat. I didn't smile.
I was just miserable. When I went out, I couldn't find anything to eat on the menu unless it was soup."
Not only did Rebecca's social life and smile disappear, she also became concerned about her health.
"Nutritionally, I didn't feel like I was eating very well at all, and it was affecting my well-being".
"Professionally, it wasn't great either. I have a successful catering business, often catering for weddings and big occasions. My teeth made me feel so self-conscious that I wouldn't smile. I felt really bad as it looked like I wasn't sharing in the happiest day of our bride's lives."
Finding TDC Implant Centres
After consulting several dentists who said nothing could be done, Rebecca had almost given up hope – until she saw Dr Anthony and Dr Michael on Channel 5's Botched Up Bodies.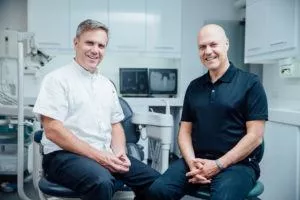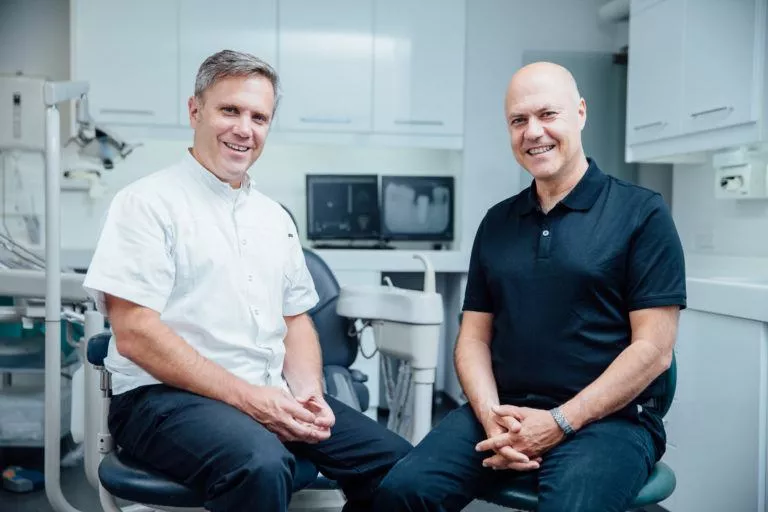 She watched them help people who, just like her, had suffered as a result of poor dental work, anxiety about visiting the dentist and dental neglect.
She saw how they could restore people's teeth, smiles and self-confidence in a single surgical visit.
And she was reassured by TDC's reputation for successfully treating the most challenging cases, including people with extreme bone loss. Rebecca felt she had finally found the right dental team for her.
"I immediately wrote down Anthony's name, but it took me six years to pluck up the courage to go and see him for a consultation."
"Anthony may be the only dentist, or even doctor, that actually listened properly. His total professionalism made me feel so comfortable. None of the team thought I was being silly."
Getting her smile back – in just one day
Having used a cone beam scanner and a 3D printer to make a perfectly accurate replica of Rebecca's jaws prior to surgery, Dr Michael Zybutz, TDC's Lead Surgeon and a Specialist Periodontist, knew exactly where he was placing the implants that would act as the tooth roots for Rebecca's new teeth.
On the day of surgery, he extracted Rebecca's remaining loose teeth, removed any infection and placed four implants in each of her jaws.
A few hours later his brother, Principal Aesthetic Dentist Dr Anthony Zybutz, placed a full set of fixed upper and lower teeth on the implants, and Rebecca was able to see her new teeth and smile for the first time.
"It was amazing and very emotional. I just couldn't get over how natural my new teeth looked.
My husband was there as I looked into the mirror and he couldn't believe it!
To walk in at 8 in the morning with my awful loose and missing teeth and then leave, hours later, with my smile and teeth totally restored – I never thought it could be possible.
And because the temporary fixed teeth are securely fixed in your mouth, I didn't need to wear a removable denture before my final, permanent set of teeth were fitted a few months later".
Life with her new smile
"My family could not believe it. I mean really could not believe it", say Rebecca. "Everyone was like, "You look so different!"
I can chew meat, I can chew crusty bread. My face has changed shape – I look different.
I never wore lipstick before. I never had lips to wear lipstick! Now I can laugh and smile with my clients without feeling self-conscious. I'd avoided being in photos for years and now I can't stop taking selfies!"
Describing TDC and Smile in a Day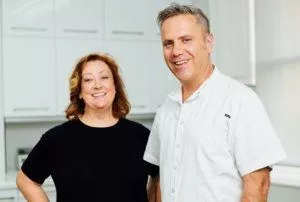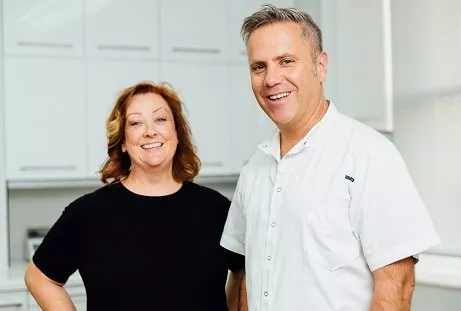 "I really don't think anyone else could have done what Michael, Anthony and their team have done for me. They are just the best at what they do."
"I would describe TDC Smile in a Day as a bloody amazing experience! It's given me the confidence to be who I used to be."
If, like Rebecca, you would like to get your smile and your quality of life back, book your free consultation by clicking here or by calling 02035536415.  We have TDC Implant Centres in Harley Street, Folkestone and Peterborough.
Rebecca's Smile in a Day treatment was shown on Episode 4 of "This Time Next Year."
Lynda's Smile in a Day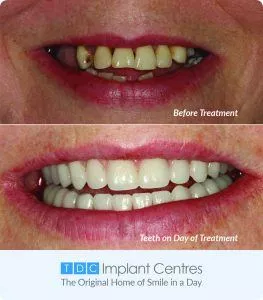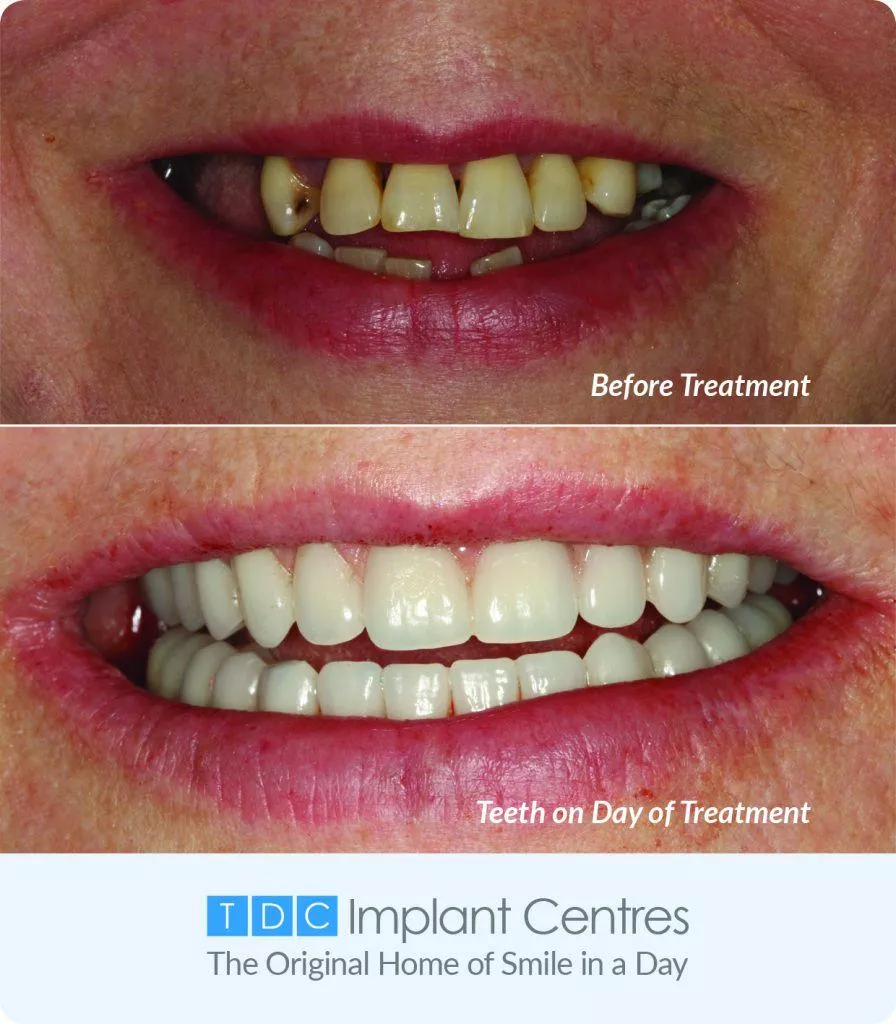 "I just knew that I didn't want something that I had to take out at night."
Lynda Moore had always hated anything medical, so avoided contact with doctors and dentists, only visiting the dentist when it was a real emergency.
Her teeth had deteriorated over a long period of time and, having had eight teeth removed, she was given a small partial denture. But the partial denture was loose and uncomfortable, so Lynda didn't ever wear it.
Eventually, some of her front teeth started to feel loose and began to move. She knew she had to find a solution – not only was she struggling with loose and missing teeth, it was painful.
So, despite feeling anxious, she plucked up the courage and made an appointment to see a local dentist who offered cosmetic dentistry.
"All my teeth needed to come out"
"I was really shocked when I was told that I had gum disease and all my teeth needed to come out. I had no idea that they were that bad. I felt belittled."
But a week later Lynda went back to discuss treatment options, which were:
1. For Lynda to have all her teeth removed. She would live with no teeth for about a month whilst the swelling went down, then she would be fitted with a temporary denture. (Also known as "immediate dentures," these are false teeth that can be placed as soon as your teeth have been extracted). This was the option recommended to Lynda.
2. To have all her teeth extracted and to be fitted immediately with a temporary denture, which would require repeated visits to the dentist to have it adjusted. At a much later date, there was the option for a clip-in denture to be fitted, at a cost of £15,000 – a high cost for a treatment that Lynda really didn't want.
"I was in quite a state. I knew I needed to do something, but I didn't know what to do.
For me it wasn't about the money. I just knew that I didn't want something that I had to take out at night.
I booked an appointment to see an NHS dentist, but I had to wait five weeks. That gave me time to think."
Discovering the solution at TDC
"For a couple of weeks, I kept looking at the internet and I kept coming back to TDC because I liked the pages on their website and reading the stories. They looked like the place I wanted to go. So I researched everything I could about TDC, even checking them out at Companies House."
Then one evening in May 2018, Lynda got a call from her sister telling her to watch primetime TV show 'This Time Next Year'.
"There was a lady on there having her smile transformed in a day with dental implants. I watched it and knew that's what I wanted to get, so I discussed it with my husband – I knew exactly how that lady felt."
"But I didn't realise at the time that the transformation on TV was actually being done by TDC! When I found out it really could be done in a day (implants and a full set of fixed teeth), I couldn't believe it.
The moment you meet Anthony (Zybutz) you know you're in safe hands. I was worried that they'd say there was nothing they could do for me, but they were wonderful and really understood."
"Life-changing isn't the word"
Today Lynda has a full set of upper and lower dental implants, and a beautiful new smile, and says "life-changing isn't the word."
"I really didn't realise how much confidence I'd lost over the years. I used to think about my teeth at night, and again first thing in the morning. I don't have that any more. No more dull pain. I feel healthier, and you can interact with people more."
"We've got tickets for Wimbledon. I hope the camera goes on us as I'm going to give a big smile!"
Graham's Smile in a Day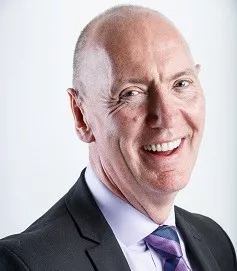 "My teeth had always been a problem", says TDC patient Graham Barrow.
"They were crooked, difficult, crumbling and had gradually fallen out. I got to the point where I had two partial dentures."
Seeking help was a big step for Graham who hadn't cleaned his teeth for 20 years without bleeding. But having his procedure at TDC helped him overcome his life-long fear of sitting in the dentist's chair.
"Prior to coming here, I was pathologically phobic about going to the dentist" he says.
"It was a wonderful day. I wasn't just coming in to have a procedure, pay my money and go – they really wanted me to have a good experience, and that came through across the whole day."
'You will get the best treatment there is'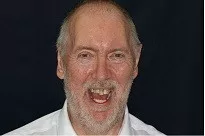 Eighteen months later, Graham is really enjoying life. He has lost weight, got fit through walking and never bores of hearing people tell him how fantastic he looks.
Making the decision to have TDC Smile in a Day same day implants gave Graham a whole new lease of life.
"I have reinvigorated a lot of things I do in my life. Absolutely, unequivocally, the tipping point for that whole process was coming here and getting my teeth done."
"If you are serious about getting this done, come here. You'll get the best treatment there is."
Helen's Smile in a Day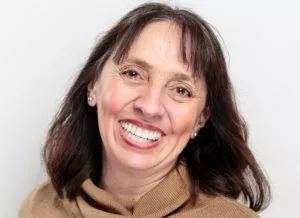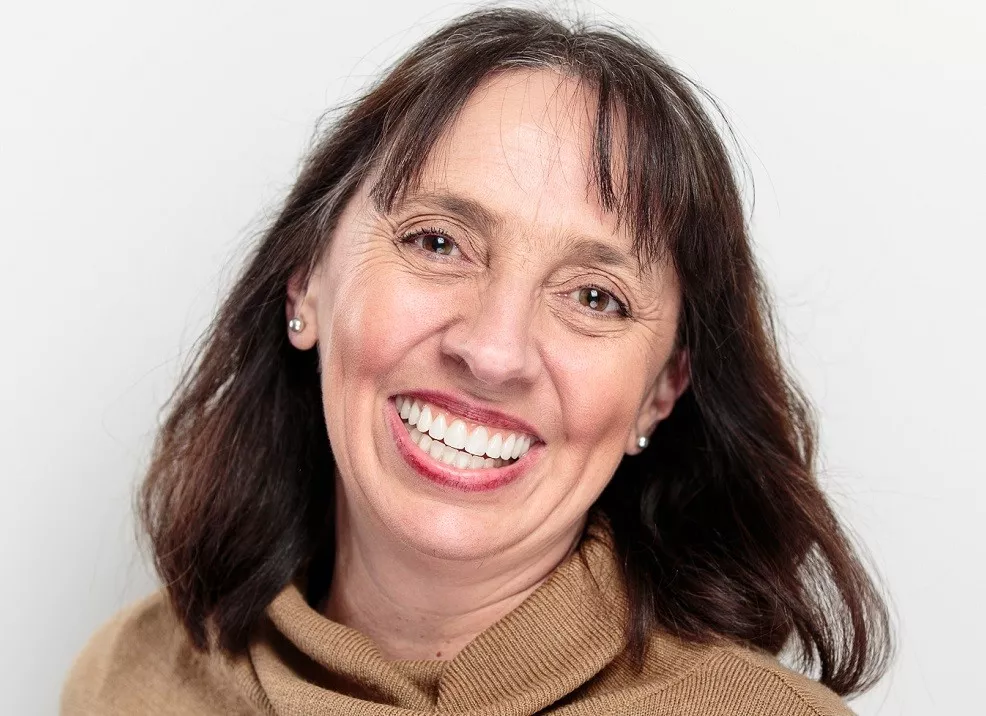 "It's just like a whole new me. It's nice to see someone smiling in the mirror."
TDC patient Helen Few had her Smile in a Day treatment at the Harley Street centre. She is now full of renewed confidence and loves her beautiful new teeth and smile.
Years of dental problems
But it wasn't always like that. Aged 18, Helen fell and broke several of her teeth, an accident that would lead to years of severe dental problems and a fear of the dentist.
After her fall, her teeth were painful and, from then on, she didn't really look after them. Several teeth had to be extracted as they were rotten, and she ended up with a dental plate.
"I was just so self-conscious," she recalls.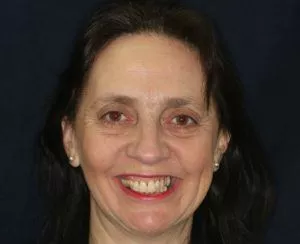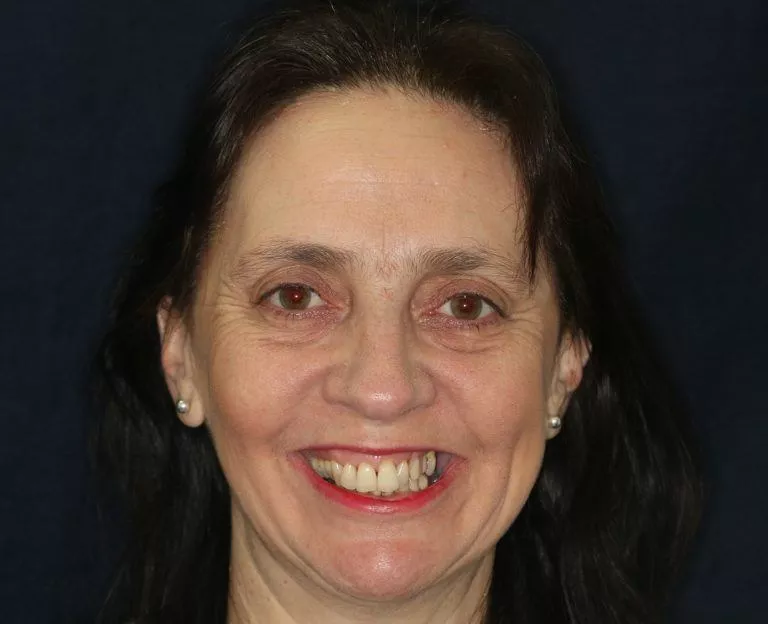 Helen's bad experiences led to extreme anxiety about going to the dentist throughout her adult life.
"I'd cry all the way to the dentist before my appointment and then I'd take about 5 minutes walking round and round the chair before I could sit down," she remembers.
"I couldn't even take my kids to the dentist. I was that scared."
Taking the step to her new  smile
Eventually Helen knew she had to do something, but her own dentist said he couldn't help her. He recommended coming to TDC Implant Centres to see if anything could be done.
She booked her consultation at the Harley Street centre and took the first step of a life-changing journey that would end with the beautiful new smile she had dreamed of for years.
The first consultation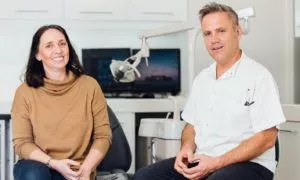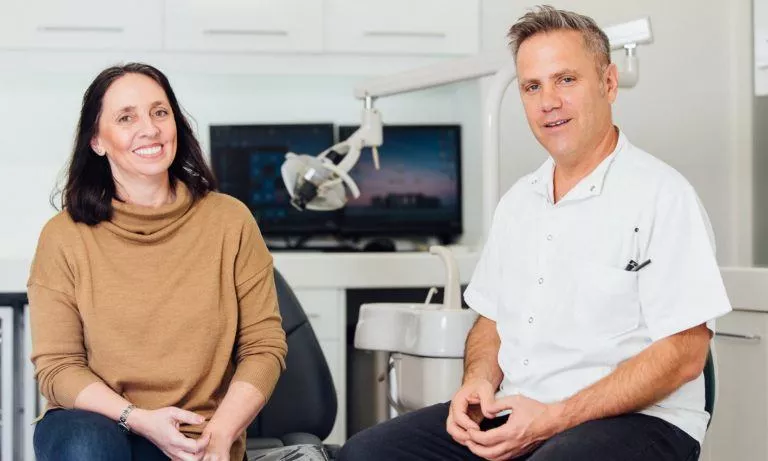 Helen's initial consultation was with TDC Lead Dentist, Dr Anthony Zybutz (left).
She says she immediately knew she was in the right place as she felt so reassured by the calm and patient approach of the whole TDC team.
"I sat here and cried for 40 minutes before they managed to get me to say anything. To them it wasn't silly, and they made me feel so relaxed."
Surgery day
Helen had a full set of implants and her fixed temporary teeth fitted all in a single surgical visit. She arrived in the morning with painful, loose and missing teeth and left hours later with secure, natural-looking teeth – and a beautiful smile.
And, as the temporary teeth remain fixed in the mouth until the final, permanent teeth are placed a few weeks later, there was no need to wear a denture during the healing phase.
Living with her new smile
Helen says that everything is different now that she has teeth that look, feel and function just like natural teeth, and she can smile with confidence.
Looking back, it is still quite emotional to think about the years when she couldn't eat properly and felt so self-conscious about her teeth and plate that she covered her mouth with her hand.
"I've changed totally. I've got so much more confidence in myself. It's just like a whole new me. It's nice to see someone smiling in the mirror."
Plus, she is no longer nervous of coming to the dentist and even looks forward to her maintenance appointments.
"The girls on reception are amazing. It's like coming to see a friend rather than coming to see a dentist," she says.
If you would like to talk to one of our Patient Advisors about how the TDC Smile in a Day same-day implants could help you restore your smile, simply call 02035536415 or click here to request your free consultation.
Ruth's Smile in a Day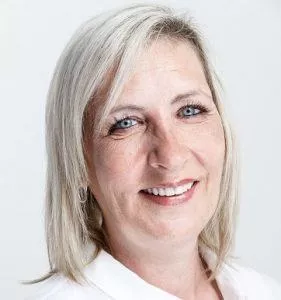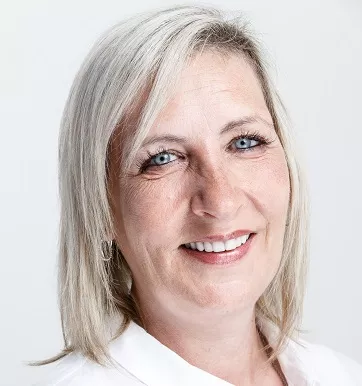 Ruth Bruce had her full upper arch treated with TDC Smile in a Day same day implants in Spring 2016.
After many years of dental problems, she was in pain from constant infections and was very self-conscious about her appearance. She lacked confidence and felt like her life was on hold.
"I didn't go out for three years, apart from work," recalls Ruth.
Ruth had looked into dental implant options before but finally decided to book a consultation at the Folkestone practice when she heard the TDC Implant Centre ad on the radio. It was a decision that changed her life.
"It was the best thing I ever did."
"I would recommend it to anyone!"
"All my fears were laid to rest at that first consultation," she says.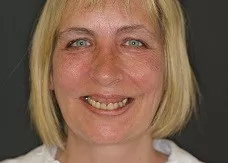 "The TDC dentists said I was a complex case and originally were hoping to save some of my teeth, but in the end it was decided that the Smile in a Day treatment was the best option for me."
Now Ruth loves the way she looks, smiles without covering her mouth and is loving life again.
"My life has changed completely" she says. "I can go out. I've got so much confidence. I can eat what I want. It's just fantastic."
"I would recommend it to anyone."
Fiona's Smile in a Day
Like many people who seek help at TDC Implant Centres, Fiona* had lived with dental pain for years and, as the pain got progressively worse, she just treated it with painkillers.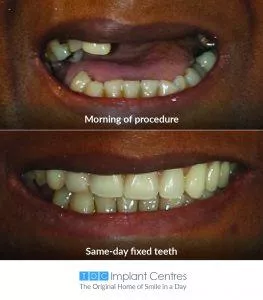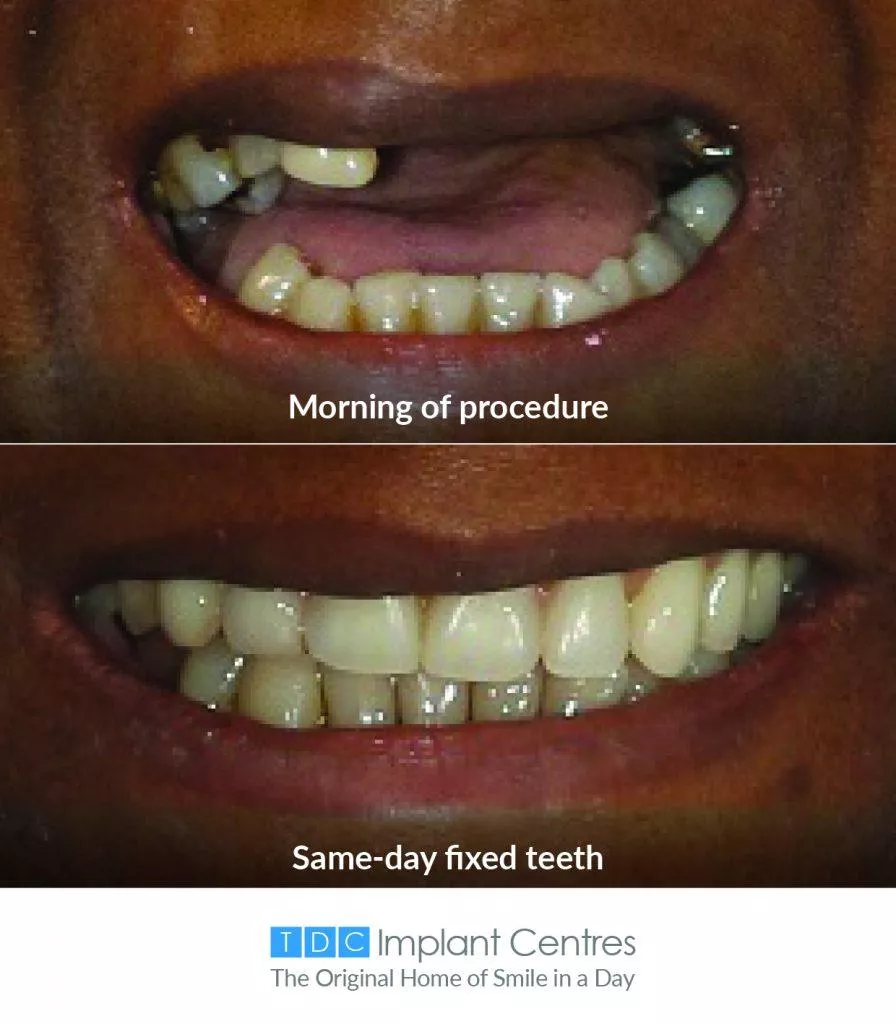 "I'd had really bad experiences with dentists," she says "so I just put off getting treatment. In fact, one of the dentists has since been struck off.
"I really did have a high level of fear."
Botched dental treatment
In her early twenties, Fiona was given a dental bridge after having an abscess on her front teeth. Then, 18 years later, one of the teeth chipped and she was sedated during treatment to have it repaired.
She woke up to find that all her front teeth had been removed.
Her only option was to wear a partial denture. "It was only meant to be temporary, but I had it for ten years. It was a horrendous experience."
Seeking help at TDC
After seeing ads for TDC Smile in a Day on ITV and on Facebook, Fiona decided to get in touch and came to see Dr Anthony Zybutz for an initial consultation.
"I was very self-conscious," she recalls "but they didn't make me feel judged. From Reception up, I couldn't believe how comfortable they made me feel."
Fiona's Smile in a Day treatment
In January 2018, Fiona had her Smile in a Day same-day implant procedure at TDC Harley Street – a full upper jaw restoration and three single implants placed in her bottom jaw.
"I didn't feel a thing, I couldn't believe it.
I'd been worried that I would be left toothless for months if I had implants, but I left with fixed teeth on the same day, and I don't have to wear a removable denture before my permanent teeth are fitted."
A life-changing outcome
"I feel absolutely brilliant now, and my confidence has soared. It's made my life so much better – I can eat well and I can smile again – and that's with my temporary teeth.
"I don't have to think about taking adhesives for my denture on a night out."
Having this treatment at TDC has changed my view on dentists. Dr Anthony wanted everything to be perfect – the dedication and attention to detail was amazing."
Patient name changed for privacy