Wayne's Smile in a Day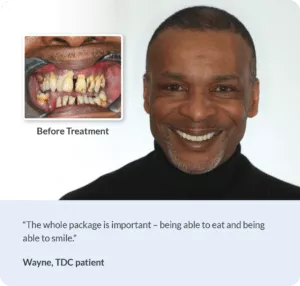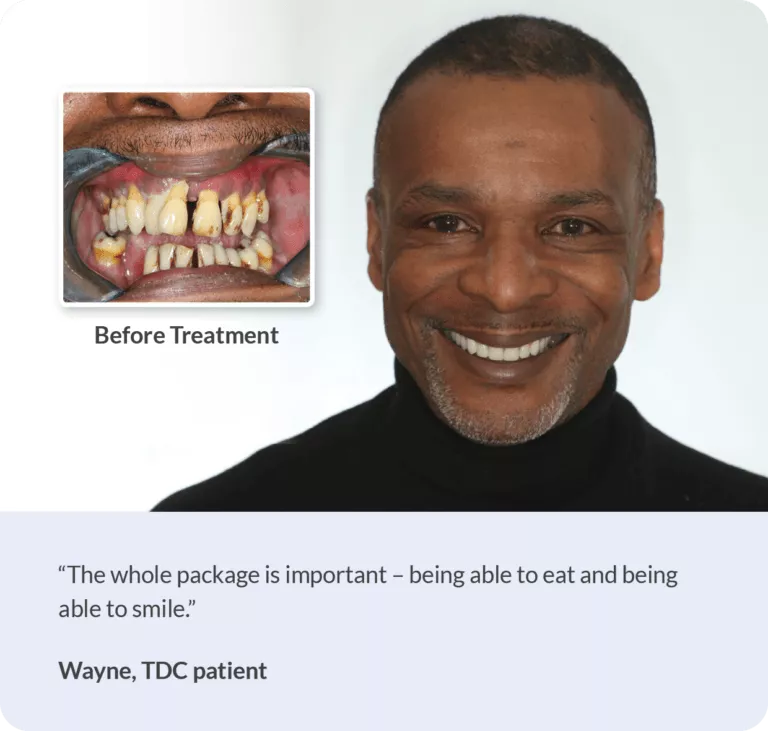 Total Dentalcare (TDC) patient Wayne Brown completed his Smile in a Day same-day dental implant treatment in late 2019.
He now has a full set of new upper and lower teeth, securely fixed on dental implants.
"My implants have completely changed my life.  I am a new person."
Not only that, his new smile won the award for the UK's Best Dental Makeover at the 2020 global My Face My Body Awards.
Before treatment, Wayne had lived with severe gum disease for many years and found himself with loose teeth that were gradually falling out, and wearing a partial denture in his lower jaw.
"I had serious gum disease and I was losing teeth"
"I had problems with my gums that affected my lower teeth first, then affected my top teeth.
It was serious gum disease. My gums were receding which meant that my teeth were loose and falling out – I had lost all my back teeth.
I had to be careful about what I ate – I couldn't eat things like crunchy apples and wasn't able to chew meat.
And I couldn't laugh and smile as much as I wanted to."
Finding TDC Implant Centres
"It got to the point where my usual dentist advised me that I would eventually need to have all my teeth replaced.
We discussed my options, including full dentures – which I didn't want – so I decided to look into things myself.
I heard an ad for TDC Smile in a Day when I was listening to LBC radio. I looked them up, read the information and patient reviews on their website, and booked my consultation at the Harley Street Centre.
"My experience at TDC was good from the start."
"When I went for my initial consultation, Anthony looked at my teeth and, after I'd had the x-ray, he confirmed that I did need all my teeth replaced.
We talked through all the treatments I could consider and I decided that, although it wasn't cheap, having Smile in a Day dental implants would be worth it.
I could keep trying to have individual teeth fixed, but that wasn't a permanent solution and would be a waste of money."
The day I got my smile back
"When it came to surgery day, I was nervous.
I arrived for 8am and they had explained that I would be there all day.
During surgery I was semi-awake as I chose to have sedation. The team were around me and they reassured me, and they listened to music.
I felt very comfortable and hardly felt a thing.
The only discomfort I felt was a bit the next day, but I took the medication they had given me, and it was all fine. My face was swollen for about a week and I stuck to soft food."
Seeing my new teeth for the first time
"When I looked in the mirror at the end of the day, I felt confident – I felt better.
I felt my confidence come back, even though it was just the temporary (fixed) teeth.
I had the confidence to smile."
Living with my new teeth and smile
"My permanent teeth (fitted about three month later after the healing phase) fit even better.
It took a little bit of getting used to the feeling of having new teeth, and my speech was a bit different for a bit, but now I don't even realise I have them in.
Now I can eat, no problem – even crunchy apples – and with my front teeth.
I enjoy a full diet now, I can chew meat, just as if I had natural teeth.
I only told a few friends and family that I was having my teeth done. Some didn't even notice as they look so natural, others asked me how my teeth looked so good!
For me the whole package is important – being able to eat and being able to smile."
"I would definitely recommend TDC"
"At every stage of my treatment at TDC, I felt comfortable and reassured.
They told me how to look after my new teeth and I've not had one problem.
I'm happy to laugh and smile now.
If you have the money, I would definitely recommend TDC – the treatment is top notch.
Anthony has done a great job!"
Rosemarie's Smile in a Day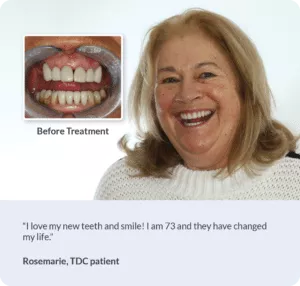 "I feel like I've won £1 million on the lottery – I've never been happier in my life.
"I'd always been a bit nervous about going to the dentist; I had memories of when they used gas masks when I was a child. But I did manage to find a dentist that I liked.
I was a smoker for many years. I had jawbone loss and over time I lost my back teeth.
It shows if you have missing teeth when you smile.
I was using my front teeth to eat, and they were getting loose – I was getting really worried that they would fall out too. I was even having dreams about losing more teeth.
I couldn't eat properly, and I was getting horrific nerve pain. I never take painkillers, but the pain made me feel really ill.
My own dentist told me that my only option was to have bone grafting due to the bone loss and then wear a removable denture. He actually did make three for me.
But I couldn't bear the thought of having false teeth."
Finding TDC Implant Centres
"I first heard about Dr Michael (Zybutz) years ago when he treated my ex-husband – he said at the time that Michael was the best and I always thought I'd like to go to him if I could. I thought he'd probably be out of my price range though.
I was prompted to actually go to TDC when I saw their Smile in a Day ad on TV.
I realised I needed dental implants, so I booked a Smile in a Day consultation with Dr Anthony (Zybutz) and I've never looked back."
Surgery day
Rosemarie's surgery for Smile in a Day full upper jaw replacement took place at the TDC Harley Street centre in November 2020.
"I was petrified on November 13th but I opted for conscious sedation during surgery and it was amazing! Time passed really quickly. I just remember music and telling the whole team that they are all geniuses!
I had absolutely no pain during the procedure and I didn't need a single painkiller afterwards. They gave me antibiotics which I took to prevent infection.
And I didn't have any bruising, just a tiny bit of swelling that soon went."
"I love my new teeth"
"I just love my new teeth and smile!
I am 73 and they have changed my life. I look so much better, much younger.
But the biggest change is in my confidence.
And I can eat properly again, even though these are just my temporary teeth. They'll be exchanged for my permanent set in a couple of months."
"I've stopped smoking"
"I had been quite a heavy smoker, but I have stopped since I had my dental implant surgery.
Anthony explained that smoking can affect the healing process, so I had one last cigarette and that was it.
I'm really happy I've given up and it's saved me lots of money!"
My care at TDC
"The care I received from everyone was unbelievable. They are brilliant. If it was out of 10, I'd give them 100!
They even sent me flowers after the procedure – I couldn't believe it.
I would highly recommend TDC and I've told everybody about them in case they need implant treatment.
And if anyone is thinking of having treatment, they can speak to me."
The majority our patients have at least one full set of teeth (upper jaw, lower jaw or both) restored.  If you would like to know more about the benefits of TDC Smile in a Day, or see if it could be the right solution to restore your smile and confidence, you can book your free consultation* by completing the form on this website, or by calling 02035536415 to speak with one of our friendly, highly-trained Patient Advisors.
Kulli's Smile in a Day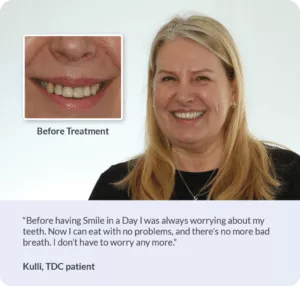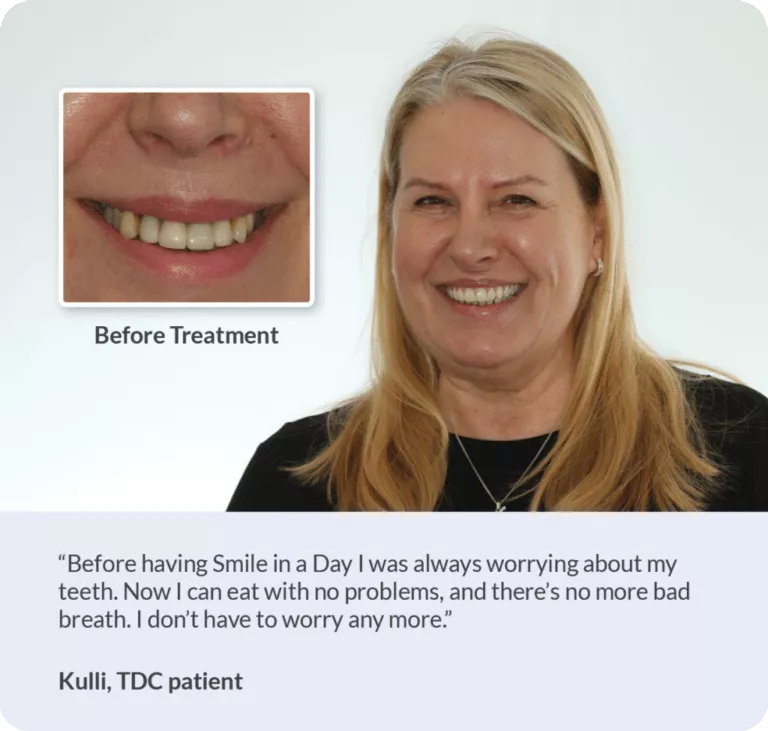 Kulli Karu was due to have Smile in a Day surgery to restore her full upper set of teeth in March 2020, but, due to the Coronavirus pandemic, her procedure was cancelled.
Eight months later, in November 2020, she was finally able to look in the mirror and see a beautiful new smile reflected back at her.
Calcium deficiency, gum disease and failing teeth
Originally from Estonia, Kulli grew up with strong, healthy teeth and regularly went to the dentist.
But after having her children she found she was suffering with gum disease and loose teeth.
With her natural tooth roots no longer supporting all her teeth, they became increasingly loose, wobbly and protruding. Kulli was having problems eating normally.
Her general dentist explained that she had gum disease, receding gums and her jawbone was worn down as she had significant bone loss. He replaced three teeth with dental implants but the bridge broke – and so did the replacement bridge.
Finding the right solution and implant dentist
Kulli started to research her options on the internet – her priority was finding a long-term solution and a dentist experienced with dental implants and with good reviews that she knew she could trust.
"I looked at lots of different dental companies.
It was very important to me that I could be totally confident that I was choosing the right dentist.
All the reviews for TDC were really good – they said were really experienced at the procedure and with great results. So I decided to go for an initial consultation for TDC Smile in a Day."
My first impressions of TDC
"When I walked into the centre in Harley Street, I got a really warm and lovely welcome from everyone. I didn't feel frightened or worried.
I had my consultation with Anthony (Dr Anthony Zybutz, TDC Lead Dentist), and everything was explained to me.
I was all booked for my Smile in a Day procedure, then everything had to be cancelled due to Covid. It was so disappointing.
But despite the practice having to close, Anthony was always available on the telephone to help me with the issues I had.
Being able to communicate directly with my own dentist at a time of need really re-assured me that TDC were the right dental team for me."
The day I got my new smile
"Surgery day was absolutely lovely. I didn't feel any nerves or fear.
First of all, Michael (Dr Michael Zybutz, TDC Lead Surgeon) came to speak with me and talked me through everything again.
I had sedation and it felt like time went so quickly. I remember hearing music and tapping my foot – I was even laughing.
There was no pain at all – you really can't feel anything. It was peaceful.
When I was lying there, I was thinking: "Thank goodness, he's giving me new teeth. He knows what he is doing. I won't have to worry any more. I won't have to wake up in the morning and wonder if my teeth are still there."
It was such a happy moment when I saw my new teeth for the first time – I was so happy.
When everything was finished, I felt very well, I felt good. They gave me an ice pack as I was a bit swollen and by the time I got home, the swelling had almost completely gone.
I slept like a baby that night – no bruises and no pain. I even went out shopping the next morning!"
Smile in a Day has changed my life
"Before having Smile in a Day treatment I was always worrying about my teeth.
I still have my temporary fixed teeth, but everything is already better. They are so comfortable; I can eat with no problems and there's no more bad breath.
I don't have to worry any more.
And I'm always smiling.
My teeth look so good – I feel they've made me younger. People keep saying that they can't believe that I had them done in one day!
And it's wonderful to know that when I'm 70, I'll still have beautiful teeth!"
My experience at TDC
"Everything people said about TDC in the reviews is true. They really are caring.
When my surgery had to be cancelled because of Coronavirus, Anthony got in touch to tell me not to worry and that they would look after me. They even sent me flowers after surgery.
Having TDC Smile in a Day was definitely the right decision for me.
It was costly, but sometimes you have to invest in yourself.
It's a miracle that they did such a good job. I am so happy with everything."
If you would like to learn more about the benefits of TDC Smile in a Day dental implants and how we could restore your smile, you can book a free, no-obligation consultation* at one of our three UK implant centres – London Harley Street, Folkestone in Kent and Peterborough in Cambridgeshire.
Michael's Smile in a Day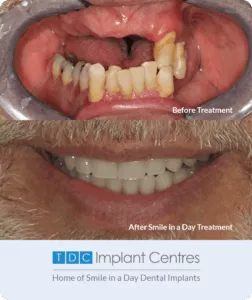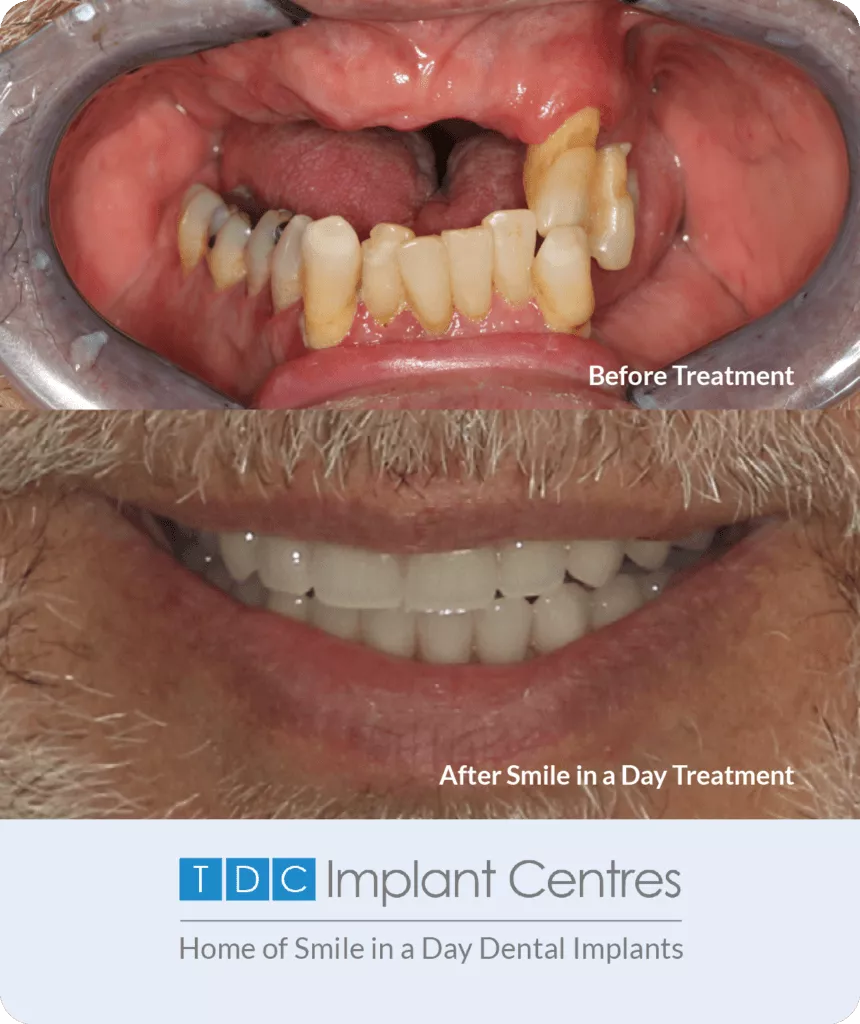 "A friend recommended Smile in a Day to me – I hadn't even thought about dental implants."
In March 2019, patient Michael Edwards had both his upper and lower arches of teeth restored on dental implants at TDC Implant Centres in Harley Street.
Receded gums due to medication
"I was diagnosed with epilepsy in 1986 and have successfully managed the condition with medication ever since.
Unfortunately, a side-effect of the original drugs I was on was to make my gums recede. Despite regular trips to the dentist, another tooth would loosen every few weeks and sometimes they had to be extracted.
It mainly affected my top teeth. Luckily, they were towards the back, so I had a plate put in that was gradually added to. Eventually I had a plate put in to replace my missing bottom teeth too.
I struggled with my denture as it was always slipping, and I spent a fortune on false tooth glue which didn't even work when I was chewing. I was constantly having to reapply it.
My job is very public facing – it involves chairing meetings and attending lots of public events.
So, having loose teeth was far from ideal and I knew I couldn't go on like this for the next 20 years."
TDC – Recommendation from a friend
"It was actually a friend who told me about TDC and Smile in a Day. He'd had his teeth restored at TDC Implant Centres in Folkestone.
He said he'd had his done and never looked back.
Before that, dental implants hadn't even been on my radar as a solution.
I looked into it, including considering going abroad as it is much cheaper.
The problem was that you don't get the personal service and you have to keep going back for multiple appointments. And if you have problems, what do you do?
I spoke to my local dentist who agreed that I should see specialists, so I went to see Anthony and Michael Zybutz at TDC.
Initially I was only going to replace my top teeth. Anthony said this could be done, but my bottom teeth were at angles and splayed at the back, so I decided it was best to get them all done."
Having my Smile in a Day procedure
"I had to have some extractions and I don't like needles – because my gums were receded I didn't have a lot of gum and it was very sensitive. So I opted for conscious sedation.
It was an all-day dental implant procedure but I had no reason to worry at all – it all went perfectly.
I had no pain – nothing. Not on the day, or after.
It did feel a bit strange having new teeth in for the first time. When they were swapped for my permanent set, they made adjustments so the bite and fit was perfect."
"I don't think about my teeth any more"
"I don't have to think about my teeth any more, whereas before I did. I used to worry about it.
But you do need to care for them as they are an investment.
It's a lot more convenient than when I had dentures.
I just have to clean them normally, except I now use a waterpik.
I go for my hygienist appointments at TDC. I like sticking with the specialists who did the procedure and, being in the UK, I can just jump on a train and be there in two hours if I need to.
Nowadays, I go out a lot to eat and can enjoy my food. I don't have to avoid chewy and hard foods like I used to.
I can choose steak, Granny Smiths and corn on the cob.
I love the sound of the crunch of a Granny Smith apple. It's fantastic!
Now people say to me "You've got nice teeth and I say; "I know! Thank you!"
If you would like to learn more about the benefits of Smile in a Day same-day dental implant treatment and how the TDC team could help you regain a beautiful, secure smile, why not book your free, no-obligation consultation*?  Simply call 02035536415 and one our Patient Advisors will be delighted to help you.
Rebecca A's Smile in a Day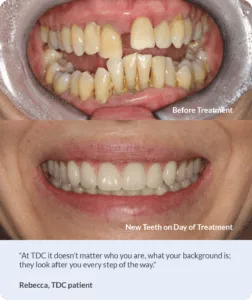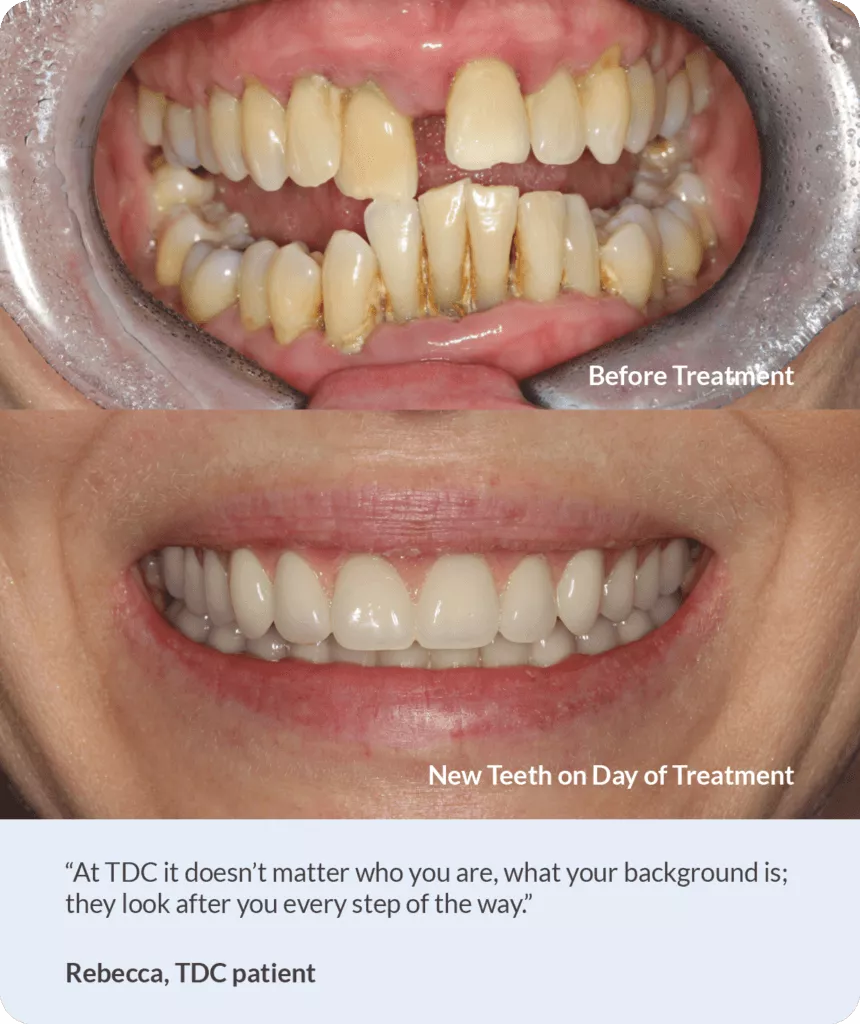 "At TDC, I didn't feel judged. They didn't make me feel bad. That means a lot."
TDC patient Rebecca Acklin had been thinking about how to solve her dental problems for a very long time, and finally had her upper and lower jaw Smile in a Day dental implant treatment in December 2019.
"To be honest, I had neglected my dental hygiene over many years.
I had severe gum disease and underlying infections, so my teeth were in a bit of a state.
They were so loose, and I was getting very worried about losing my front teeth.
I was very self-conscious about meeting people and used to avoid going out.
It took me five years to build up the courage to do anything about it, and I thought 'I'm not having another year like this'.
I heard the TDC ad on the radio talking about Smile in a Day, so I decided to take the plunge. I couldn't have gone on for much longer."
Why I chose TDC Smile in a Day
"I was so nervous going for my initial dental implant consultation, but when I got to TDC everyone was just so kind – I can't tell you how important it was to me that they didn't make me feel judged.
I knew my teeth were bad, but the people at TDC didn't make me feel embarrassed.
I felt like they just wanted to help me – they are the experts, this is what they do, and they see people with problems like me all the time.
At TDC, it doesn't matter who you are, what your background is; they look after you every step of the way.
They truly are so kind, from the first time you meet them to the day of surgery and the aftercare.
It's a real team effort – from the dentists to the lovely dental nurses and the lady on Reception – everyone seems to care and take the time to look after you. They really do make time for you."
Not all dentists are like TDC
"Before I went to TDC I did quite a lot of research. Everyone says they do dental implants, but they don't have 25 years' experience like TDC.
And the costs pretty much work out about the same.
And not everyone is as kind. I'd been to a local dentist and paid £300 for a consultation and scan. They said " Yes, your teeth are rotten," and made me feel embarrassed.
I was in a lot of pain from my back teeth, but they just sent me away without trying to help me. They never sent me a treatment plan, and didn't even email to see if I was ok afterwards. I just felt that they were only interested in me if I was going to pay the money.
At TDC, it was different. When Anthony checked me at my first consultation, he could see I needed help.
He knew I was worried about losing teeth when I cleaned them, or that they would come out when they took dental impressions. So he splinted some very loose teeth together to make them more secure until I had my implants placed."
Living with my temporary fixed teeth
Three weeks after Rebecca's Smile in a Day procedure she says she feels like she is growing into her new teeth.
"I did have some swelling and bruising. Looking in the mirror, you look really different with new teeth!
My husband loves them! He loves them because he knows how unhappy I was before.
I don't think he realized how bad things were before I had my new teeth or how much pain I was in.
And my children have asked why I didn't have it done before – but I needed to build up the courage."
My advice to anyone thinking about Smile in a Day
"It is life-changing. For me, having Smile in a Day dental implants wasn't cosmetic, it was a medical need and I do feel so much better already.
Everyone makes their own choices, but if you are going invest in this treatment, do it at the best place possible.
And it's not just for older people. I'm in my forties and I think there are lots of people like me who can be helped by Smile in a Day.
When you have bad dental problems, you often feel like people are looking at you and judging you.
TDC never make you feel judged. They are the nicest people in the world."
David's Smile in a Day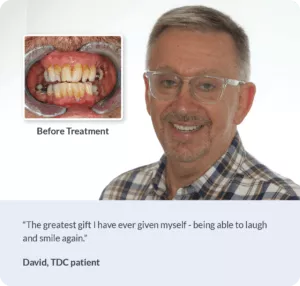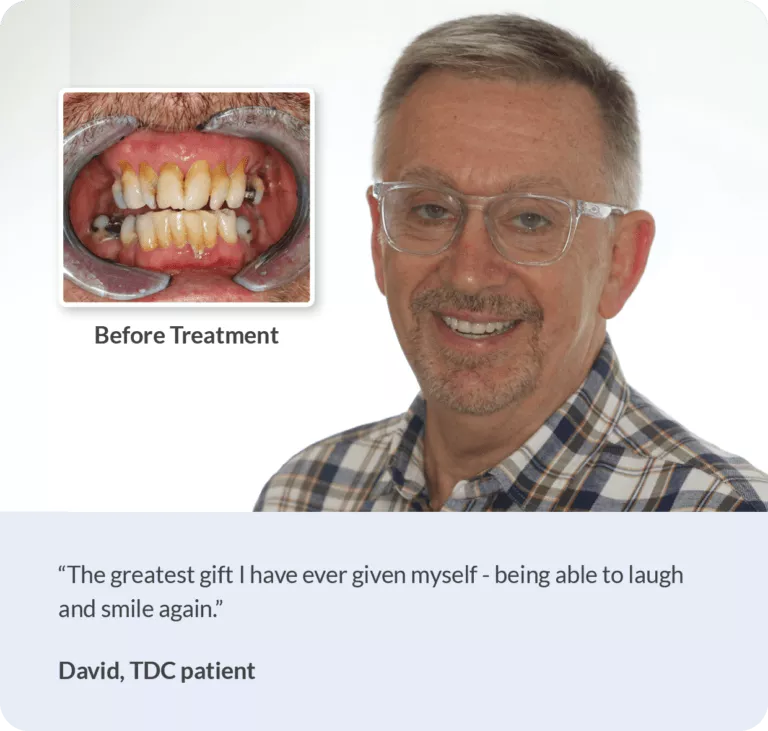 "It's the greatest gift I have ever given myself – being able to laugh and smile again."
In May 2019, David McLean was watching TV when he saw TDC patient Rebecca Webbon undergoing Smile in a Day dental implant treatment to restore her teeth, smile and confidence.
"On came Rebecca – she didn't have the same story, but when she spoke about her problems there was enough in her story to resonate in me.
She struggled for years with her teeth as they affected her confidence and her ability to eat properly.
When she opened her mouth to smile and showed her new teeth – I was so happy for her.
I recognised the TDC logo in the background behind Michael and Anthony (Zybutz) and decided to take myself in hand, to at least go for the consultation.
That someone of Rebecca's age and position could do this – I dialled the number straight away, and within a week I had my consultation."
"I hated my teeth from a young age"
Originally from New Zealand, David came to England in his early twenties.
"I hated my teeth from a young age.
Aged 10, I had too many baby teeth and needed extractions. I heard the dentist discussing my teeth and saying that they weren't worth spending money on and I never went back to the orthodontist.
I interpreted that to mean that I wasn't worth it, which started a lifetime of feeling unworthy.
I had so many trips to dentists over the years, but only when I really needed to go for crowns and extractions, and each visit was filled with fear.
I only had one straight tooth in my head, the rest were all crooked and ugly.
I wouldn't smile widely because people would see the gaps.
I really wanted a nice smile. I thought; "You can do this!" and tried to have teeth straightening treatment.
I paid a lot of money to have moulds made, then was told it wasn't going to work for me as my teeth were not strong enough.
That took me straight back to my childhood, and knocked me back, thinking that it's not for me."
Realising that self-care is so important
Eventually, with lifestyle impacting on his well-being and teeth, David could no longer chew on his back teeth.
"They were in such a bad state that I knew I had to do something about it.
I considered going abroad and even had two consultations, but I just felt confused as their approaches were so different. I realised that I wanted to be on home turf.
I had come to realise that self-care is so important and one of the things that you need to look after most is your teeth – but I thought that nothing could be done for me.
So, seeing Rebecca on TV was the push that I needed."
My consultation at TDC – "I felt ashamed, but immediately at ease"
"I thought I'd have to be sedated going to my initial consultation, but I felt almost calm.
I had looked at the website and read the patient testimonials and had started to believe that there was a way for me to do this. It gave me the courage.
I was ashamed to show my mouth, but the second I met Anthony I was at ease and felt I was in safe hands. I was honest with my story and he put my mind at rest.
I fully understood the process and knew that if other people who were as afraid as I was could do it, so could I.
Everything TDC has told me, from Day 1, has been spot on."
The day I got my new smile
"On my treatment day, Michael (TDC lead surgeon and specialist periodontist) sat with me and talked me through every step of the day ahead. I just wanted to get on with it!
I was nervous but totally at peace with my decision."
Life since TDC Smile in a Day
"Having my teeth and smile restored has been completely and utterly life-changing.
I wish I had been able to do it years ago. I have had to get used to having a full set of teeth again, learning to eat properly and it has taken a bit of time to learn how to smile naturally.
I spend a lot of time just smiling now – I just smile all the time. That is 100% to do with my new teeth – it has made me a happier person.
I feel much more open-minded towards everything. In fact, a week after having my temporary fixed teeth placed, an old friend rang and invited me to Australia.
I mentally composed a polite refusal then realised that I had new teeth and could do it. I went, and it was the best two weeks I've had in many years."
"It was worth every penny I paid"
"I had always had tooth envy and knew that if I could change one thing about me, my teeth were top of the list.
I now feel confident and relaxed.
I would recommend TDC and Smile in a Day without hesitation. 100%.
I'm actually a very private person, but if sharing my story can help someone who felt like me, and who felt that nothing could be done, I am happy to talk about it. I have surprised myself.
It's interesting how in life you know when the moment is right.
I was spurred on by Rebecca.
I'm going to write her a letter to say thank you for motivating me to act – I'd love to shake her hand."
Robert's Smile in a Day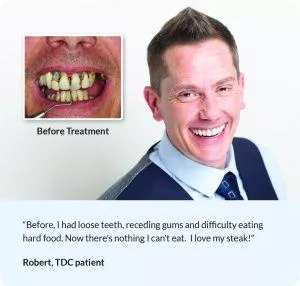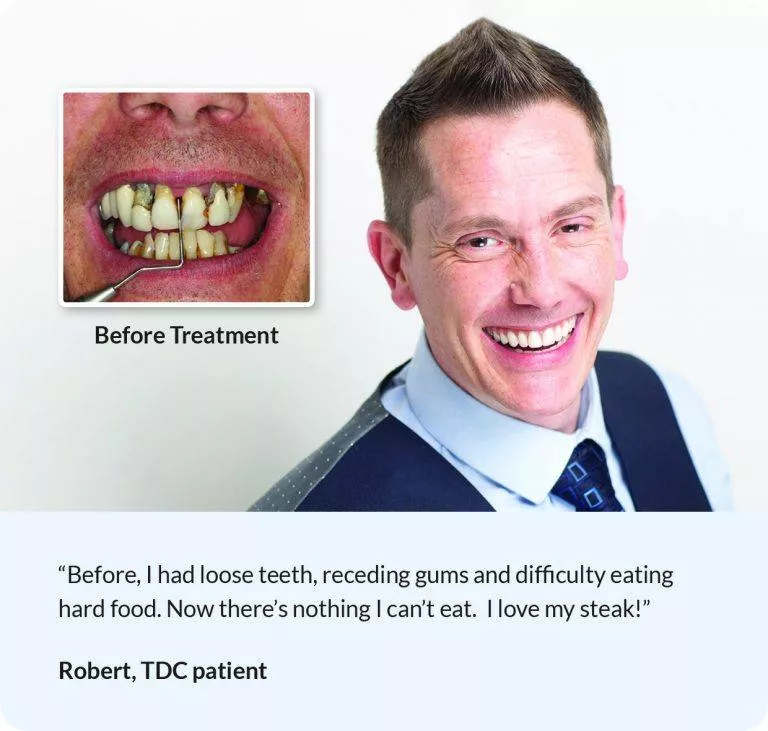 "I had loose teeth, receding gums and difficulty eating hard foods.  As soon as I started to lose my front tooth, that was the point of no return.  I had to have dental implants".
TDC patient Robert Reeve wanted to make sure that he took time to find the right solution, and the right dental team, to solve his worsening dental problems.
"I heard the ad for TDC Smile in a Day on LBC and that was the attraction – that I could go in for implant surgery and come away on the same day with teeth.
I didn't want dentures and I didn't want implant treatment that was a much longer process.  Smile in a Day was the solution.
But I did a lot of research before I made my decision.  I looked at the TDC website, read the case studies and watched the videos.
I researched other companies too, to see which was the best one for me.  And I looked at the options of going abroad due to the cost of dental implants.  But the reassurance of being in the UK if anything went wrong, and getting the service, that was important to me.
Harley Street has a reputable name, TDC have a reputable name, so I thought: "It's the place to be."
The first time I went for my consultation at TDC I was looking for reassurance and knowledge.
I was at a point where my teeth were in such a poor condition that they were going to fall out anyway, but it's still a big decision to make. And I was concerned that I wouldn't be suitable.
I asked a lot of questions and I even came back on a second occasion for more reassurance. All my options were fully explained."
The procedure
"Although I'm not really a nervous patient, I was slightly apprehensive on the day of surgery, but I met my surgeon, my anaesthetist and the whole team. Everyone was very friendly and professional."
As Robert was having both his upper and lower teeth restored, Dr Michael Zybutz placed the implants in both jaws, and later the same day Robert was fitted with full sets of temporary fixed teeth that stayed in place night and day during the healing period.
"Obviously they were the temporary teeth on the day, but I was really happy – I was impressed.  I could literally walk away with a smile.
I walked in one morning and walked out with a full set of teeth – top and bottom.  So it can be done in a day! I'm proof of that."
And three months later Robert's temporary teeth were exchanged for his final, permanent teeth at a non-surgical appointment, ensuring a perfect fit once his gums had settled.
"I go round smiling now!"
"When you meet someone, the first thing they do is look at your teeth and facial shape – and when you have teeth problems you tend not to give a great smile. I used to worry about what people thought of my teeth.
Now I tend to smile a lot! I go round smiling – in every photograph I see, I'm smiling now!
My friends and family were shocked, even a bit jealous, as they knew what my teeth were like before. None of them wants to stand next me in photos when I'm smiling!"
Positive life changes
"There's nothing now that I can't eat. Sweetcorn used to be definitely off the menu for me, now nothing's a challenge.  I could have eaten solid food on the first day, but I took it easy and worked my way up to crunchier, harder food. I love my steak!
Looking back, it was definitely worth having Smile in a Day treatment.  Dental implants cost is not cheap, but this is your life, your future.  Sometimes there's no price to put on that.
And then there's the eating – do you want to spend your life eating soup?!  It's worth it.
I can sum up TDC in one word: "Excellent". The care was fantastic, I couldn't have asked for anything more."
If you would like to see how Smile in a Day could help to restore your teeth and smile, you can book your free consultation* here or by calling 02035536415.  We have TDC Implant Centres in Harley Street, Folkestone and Peterborough.
Tina's Smile in a Day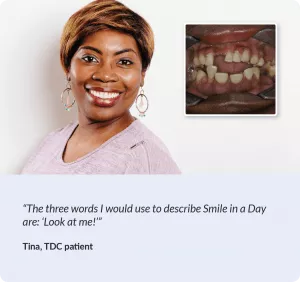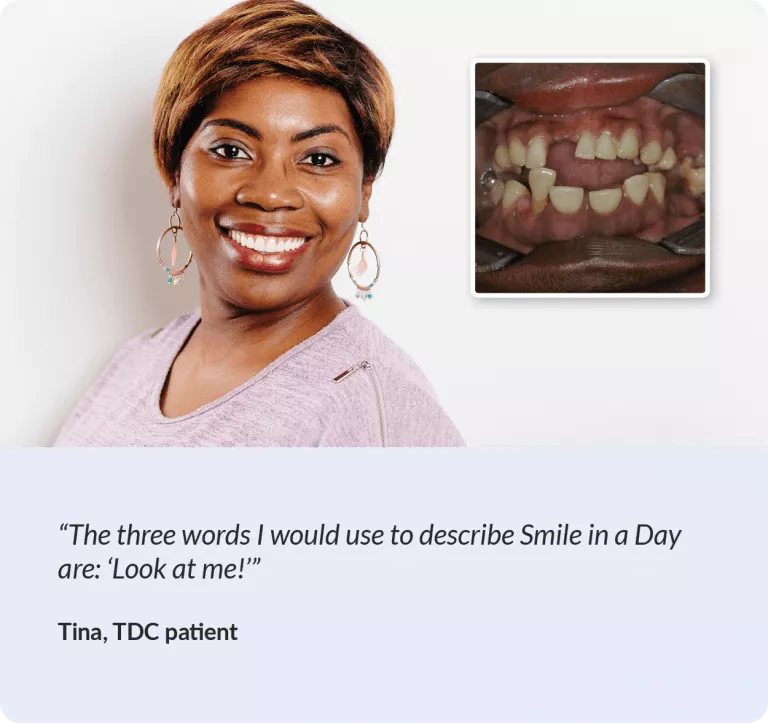 "Before I had my implants I didn't like how I looked. I didn't like my smile. I literally had nightmares about my teeth falling out. I felt scared."
Tina Cooke's dental problems started when she sucked her thumb as a child. Combined with gum disease, her protruding teeth just got worse and worse. And after being hit with a cricket ball in her face, her teeth were further loosened on one side of her mouth.
"After that my teeth got weaker and weaker. It was horrible.
I wanted to laugh and smile naturally, but the fact that my teeth didn't look so presentable, it kind of made me not want to show the real me."
Over time her gum disease worsened: "My gums used to bleed, they'd bleed a lot, especially when I brushed my teeth. I'd wake up with blood residue on my mouth."
"I felt embarrassed, knowing you have a deformity, having to show it to people."
Looking for a lasting solution
Tina had contacted other dentists and even visited her local dentist who told her that she would need to have all her teeth out and to wear dentures. "I went home and cried and cried."
"Then I saw an advert for TDC on Facebook: "I thought "Oooh! Smile in a Day! That sounds cool! I Googled TDC and visited the website. I viewed the testimonials and rang up for a consultation.
I met Anthony and he was patient. He let me speak, to explain how I had got to this stage, and he was very reassuring. That really made me feel very comfortable.
He could obviously see what my problem was, but he asked me to tell him my main reason for coming for the consultation. It took me a while to say the words: "I don't like my smile."
I came away from TDC and just thought "Yes!" It just felt right.
I decided to go that route – to have dental implants."
How Smile in a Day has changed Tina's life
Tina had her TDC Smile in a Day procedure in 2015.
"Before I had dental implants I was sociable, but as my teeth got worse I had become less sociable. I'd say yes when people asked me to go out, but I'd make up excuses not to go.
Since I've had my teeth done I feel more alive. I have much more confidence in myself, I'm able to talk to people more – I don't cover my mouth or turn my head away now.
I'm a person who likes to smile a lot – any little thing, I'll be showing teeth. I laugh at the silliest things as it makes other people feel good."
And it's a real bonus being able to enjoy food again.
"I love apples – when you bite one and get that crunch. I'd missed that! I'd missed the sound. And crusty bread!"
Getting real Tina back
"In the morning when I get up to go to the bathroom, I'll see myself in the mirror and think "Oooh, is that you Tina?! You're looking good today!"
"Once a person has a good smile, they radiate more confidence. That's me for sure."
If, like Tina, you would like to find a permanent solution to your dental problems, book your free consultation* or calling 02035536415.  We have TDC Implant Centres in Harley Street, Folkestone and Peterborough.
Glenda's Smile in a Day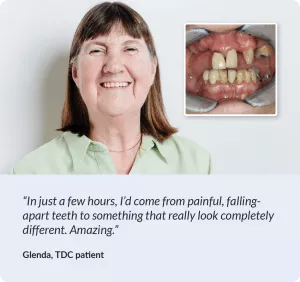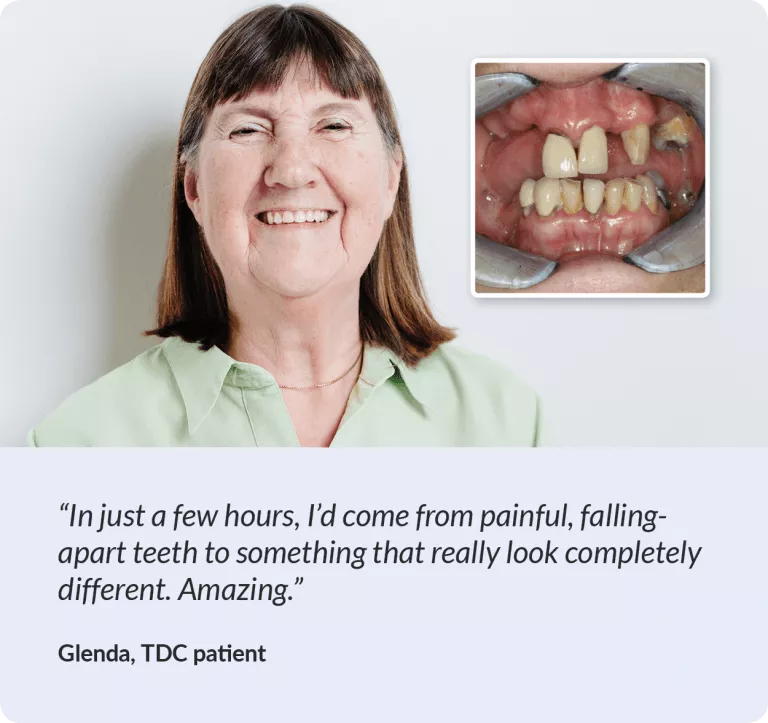 "In just a few hours I'd come from painful, falling-apart teeth to something that really look completely different. Amazing."
Following a recommendation from her dentist, Glenda Foster had her full set of upper teeth restored at TDC Implant Centres in Harley Street in 2016.
"Even though I'd been to the dentist every six months all my life, I'd had so many problems and complications over the years – with wisdom teeth, root canals, having crowns done and replaced.
And right at the front I had 2 baby teeth that weren't removed. So, when they fell out in my forties, I had to have a denture."
Glenda found that her dental problems increasingly affected her day to day life.
"My top teeth were so difficult to eat with and, more importantly, I was obviously "sissing" as people couldn't properly hear my name when I spoke on the phone.
I just made a decision that I needed to do this for the sake of my everyday life."
She came to TDC Harley Street to have her consultation with Dr Anthony Zybutz.
"Anthony was very good at explaining. He was caring, and confirmed that what I thought had to be done should be done. Plus, I was really pleased that TDC were able to do the tooth implant procedure without sedation as I wanted to be awake during surgery.
Not being able to eat, not being able to talk properly – Smile in a Day dental implants were just the best option for me.
Surgery day
"It was done in a day. It was just great. It went smoothly from start to finish.
I arrived at midday – I had afternoon surgery as I was just having my upper teeth done – I went alone but was picked up to go home about 8pm.
I've had surgery before where it's taken a couple of hours for a single tooth, so to have the whole set done in 3 or 4 hours and get some teeth to come home with was great.
Even though they were just the temporary teeth they still looked really good. I couldn't believe that the temporary (fixed) teeth were so similar to the permanent ones that were placed three months later."
A change for the better
"My day to day life is the same as before except that I'm no longer in pain, and I can eat and speak properly. And people can understand what I'm saying. Before treatment everything was so wobbly or painful or difficult to eat with – afterwards it was just such a transformation.
I have more confidence when I eat now, and certainly I can eat nuts and apples and things I couldn't eat before with my top teeth.
I never did it for cosmetic reasons, although it looks much better for people speaking to me. It's a bonus that it looks so good."
Planning to have new bottom teeth
Glenda is now planning to have her bottom teeth restored with TDC Smile in a Day.
"My lower teeth are becoming more and more of a problem and I'd have to spend a lot of money getting them sorted out with root canals and crowns that might not even be successful, so I feel I just want to go ahead and get my bottom teeth done."
A personal investment
"It is a financial consideration, and I'm not someone who goes out and spends a lot of money on clothes or eating out.
Having my top teeth done was a one-off for me, and doing it again for my bottom teeth is something very special. But I feel it's your everyday life, and what's the point if you can't carry on being fairly normal as you get older?
I never thought about going abroad. You hear about people doing different things and having complications, and you just feel you want to have it done properly.
Michael and Anthony are a great team being brothers – they instinctively work so well together as surgeon and aesthetic dentist. I could feel how smooth the liaison was with my treatment.
Everybody at TDC has been fantastic. Very caring. Each person understands their role in the procedure, and the aftercare is just as good as the consultation and treatment.
You feel like you're in the right hands."
If, like Glenda, you would like to find a permanent solution to your dental problems or learn more about how TDC Smile in a Day benefits people with loose and missing teeth, book your free consultation* here or call 02035536415.  We have TDC Implant Centres in Harley Street, Folkestone and Peterborough.
Jonathan's Smile in a Day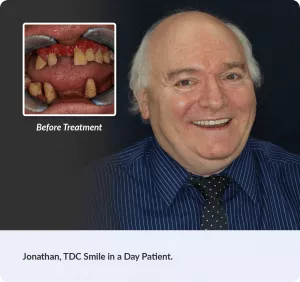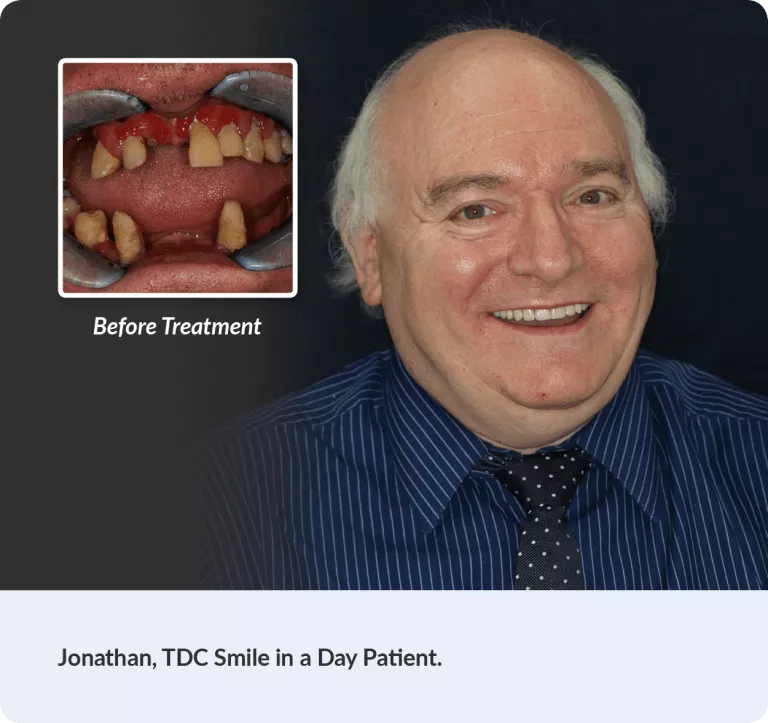 "It's about priorities, and I was investing in my health".
Pharmacist Jonathan Winton had his double arch Smile in a Day treatment in 2015 after hearing a radio ad for TDC Implant Centres on LBC.
"I had become increasingly concerned as my teeth began to loosen over time. I'd lost a few teeth and was gradually losing more, one by one," says Jonathan.
"I always worried about eating certain foods. I had to avoid hard fruits and I struggled to eat steak.
Eventually it become unmanageable and I knew my teeth needed replacement. I really wasn't happy".
So, after hearing the radio ad, Jonathan made an enquiry and booked a consultation with TDC Lead Dentist, Dr Anthony Zybutz at the Harley Street centre.
"I came out feeling really pleased that I'd had the consultation, and that it was the right treatment for me.
I knew I wanted it done. I didn't feel the need to look at other companies – I felt so comfortable that I just felt it was right. They really looked after me."
Teeth in just one day
"I hadn't realised that it could all be done in a day (the implant placement and a full set of fixed temporary teeth) until Anthony told me.
On the day of surgery, I went in early in the morning and waited to be picked up in the early evening."
Living with new teeth and a new smile
"What really surprised me was the difference made to my life. There's no more pain."
Jonathan also found that the problems he'd previously had with eating had disappeared.
"I now eat a couple of bags of apples a week! I can eat everything I want, whereas I was so worried before.
And I was really surprised by the change in my energy levels.
I'd go to work early and felt like I could work all night and all day. I don't know if it was because I no longer had infections, but I no longer felt so tired. My energy levels really went up."
Renewed confidence
"I smile more now," says Jonathan, "and I feel more confident at work when I'm facing the public every day.
It is an expensive treatment, but it is worth it – like an investment in a good car. It's about priorities, and I was investing in my health."