Stephanie's Smile in a Day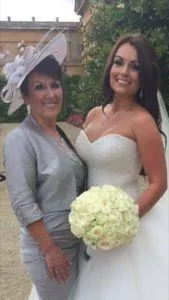 "She was a big part of the day – the Mother of the Bride."
When Stephanie and her partner decided to get married, she wanted her mum Sylvanna to enjoy every minute of being the Mother of the Bride – including being happy in the wedding photos. "I wanted to see my mum smile," says Stephanie.
"She was suffering both physically and mentally"
But Stephanie knew that this was very hard for her mother. "Her condition, periodontal disease, meant she was she was suffering with pain. She was suffering both mentally and physically with it, and she couldn't smile without covering her mouth. She was very self-conscious about her missing teeth, discolouration and caps."
"Before she had the treatment she couldn't eat hard food, bite an apple or chew gum. Her condition meant that that her teeth were very loose so another tooth lost was another confidence issue. She was very conscious about what and how she ate."
Finding a permanent dental solution
So, encouraged by her family, Sylvanna looked carefully at all her options and decided that TDC's Smile in a Day treatment was the right solution for her. In a single day, the TDC implant team gave her a full set of beautiful, fixed, natural-looking teeth, and her final set were placed three months later – in time for Stephanie's wedding day.
Stephanie immediately saw a huge change in her mum. "Even with her temporary teeth you could see the change in her – it was just spectacular."
"The photos spoke a million words"

"On my wedding day especially I saw a completely different side to my mum – very confident and very happy, and a very bright face that was very much hidden when she didn't have the teeth."
"I have so many lovely wedding photos with my mum – with that smile. She hated seeing herself in photos before."
"The photos themselves speak a million words. Without the treatment, she wouldn't have smiled like that on my wedding day."
"It has changed her life, for sure"
Stephanie says her that things have changed for them all. "My relationship with my mum has changed. No daughter wants to see their mother unhappy, unconfident with their looks, unable to eat or in pain."
"It's the best thing you could ever do for your confidence and your lifestyle. It's the best. It has changed her life, for sure."
And the biggest difference Stephanie can see in her mum?
"She smiles. It's a simple as that. She smiles!"