Kulli's Smile in a Day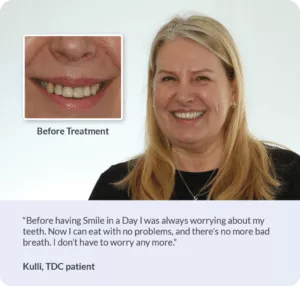 Kulli Karu was due to have Smile in a Day surgery to restore her full upper set of teeth in March 2020, but, due to the Coronavirus pandemic, her procedure was cancelled.
Eight months later, in November 2020, she was finally able to look in the mirror and see a beautiful new smile reflected back at her.
Calcium deficiency, gum disease and failing teeth
Originally from Estonia, Kulli grew up with strong, healthy teeth and regularly went to the dentist.
But after having her children she found she was suffering with gum disease and loose teeth.
With her natural tooth roots no longer supporting all her teeth, they became increasingly loose, wobbly and protruding. Kulli was having problems eating normally.
Her general dentist explained that she had gum disease, receding gums and her jawbone was worn down as she had significant bone loss. He replaced three teeth with dental implants but the bridge broke – and so did the replacement bridge.
Finding the right solution and implant dentist
Kulli started to research her options on the internet – her priority was finding a long-term solution and a dentist experienced with dental implants and with good reviews that she knew she could trust.
"I looked at lots of different dental companies.
It was very important to me that I could be totally confident that I was choosing the right dentist.
All the reviews for TDC were really good – they said were really experienced at the procedure and with great results. So I decided to go for an initial consultation for TDC Smile in a Day."
My first impressions of TDC
"When I walked into the centre in Harley Street, I got a really warm and lovely welcome from everyone. I didn't feel frightened or worried.
I had my consultation with Anthony (Dr Anthony Zybutz, TDC Lead Dentist), and everything was explained to me.
I was all booked for my Smile in a Day procedure, then everything had to be cancelled due to Covid. It was so disappointing.
But despite the practice having to close, Anthony was always available on the telephone to help me with the issues I had.
Being able to communicate directly with my own dentist at a time of need really re-assured me that TDC were the right dental team for me."
The day I got my new smile
"Surgery day was absolutely lovely. I didn't feel any nerves or fear.
First of all, Michael (Dr Michael Zybutz, TDC Lead Surgeon) came to speak with me and talked me through everything again.
I had sedation and it felt like time went so quickly. I remember hearing music and tapping my foot – I was even laughing.
There was no pain at all – you really can't feel anything. It was peaceful.
When I was lying there, I was thinking: "Thank goodness, he's giving me new teeth. He knows what he is doing. I won't have to worry any more. I won't have to wake up in the morning and wonder if my teeth are still there."
It was such a happy moment when I saw my new teeth for the first time – I was so happy.
When everything was finished, I felt very well, I felt good. They gave me an ice pack as I was a bit swollen and by the time I got home, the swelling had almost completely gone.
I slept like a baby that night – no bruises and no pain. I even went out shopping the next morning!"
Smile in a Day has changed my life
"Before having Smile in a Day treatment I was always worrying about my teeth.
I still have my temporary fixed teeth, but everything is already better. They are so comfortable; I can eat with no problems and there's no more bad breath.
I don't have to worry any more.
And I'm always smiling.
My teeth look so good – I feel they've made me younger. People keep saying that they can't believe that I had them done in one day!
And it's wonderful to know that when I'm 70, I'll still have beautiful teeth!"
My experience at TDC
"Everything people said about TDC in the reviews is true. They really are caring.
When my surgery had to be cancelled because of Coronavirus, Anthony got in touch to tell me not to worry and that they would look after me. They even sent me flowers after surgery.
Having TDC Smile in a Day was definitely the right decision for me.
It was costly, but sometimes you have to invest in yourself.
It's a miracle that they did such a good job. I am so happy with everything."
If you would like to learn more about the benefits of TDC Smile in a Day dental implants and how we could restore your smile, you can book a free, no-obligation consultation* at one of our three UK implant centres – London Harley Street, Folkestone in Kent and Peterborough in Cambridgeshire.