Michael's Smile in a Day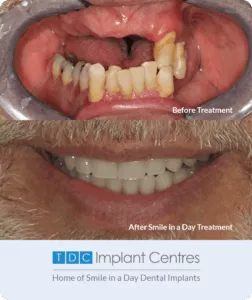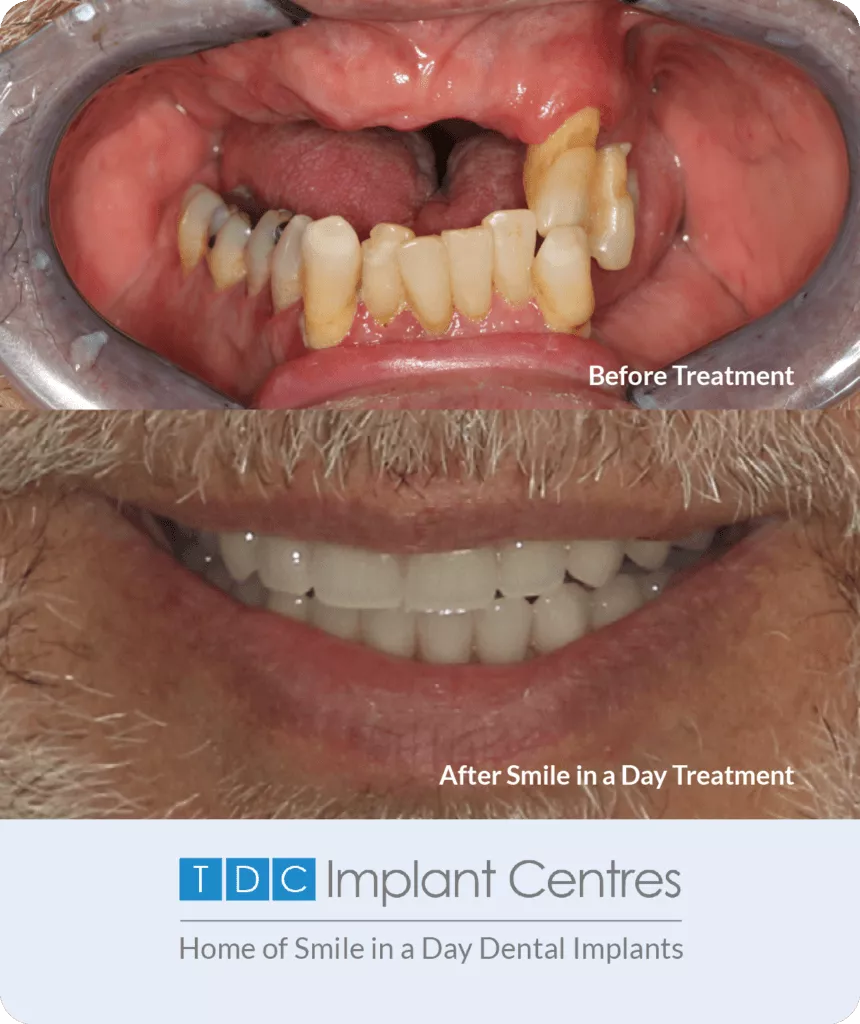 "A friend recommended Smile in a Day to me – I hadn't even thought about dental implants."
In March 2019, patient Michael Edwards had both his upper and lower arches of teeth restored on dental implants at TDC Implant Centres in Harley Street.
Receded gums due to medication
"I was diagnosed with epilepsy in 1986 and have successfully managed the condition with medication ever since.
Unfortunately, a side-effect of the original drugs I was on was to make my gums recede. Despite regular trips to the dentist, another tooth would loosen every few weeks and sometimes they had to be extracted.
It mainly affected my top teeth. Luckily, they were towards the back, so I had a plate put in that was gradually added to. Eventually I had a plate put in to replace my missing bottom teeth too.
I struggled with my denture as it was always slipping, and I spent a fortune on false tooth glue which didn't even work when I was chewing. I was constantly having to reapply it.
My job is very public facing – it involves chairing meetings and attending lots of public events.
So, having loose teeth was far from ideal and I knew I couldn't go on like this for the next 20 years."
TDC – Recommendation from a friend
"It was actually a friend who told me about TDC and Smile in a Day. He'd had his teeth restored at TDC Implant Centres in Folkestone.
He said he'd had his done and never looked back.
Before that, dental implants hadn't even been on my radar as a solution.
I looked into it, including considering going abroad as it is much cheaper.
The problem was that you don't get the personal service and you have to keep going back for multiple appointments. And if you have problems, what do you do?
I spoke to my local dentist who agreed that I should see specialists, so I went to see Anthony and Michael Zybutz at TDC.
Initially I was only going to replace my top teeth. Anthony said this could be done, but my bottom teeth were at angles and splayed at the back, so I decided it was best to get them all done."
Having my Smile in a Day procedure
"I had to have some extractions and I don't like needles – because my gums were receded I didn't have a lot of gum and it was very sensitive. So I opted for conscious sedation.
It was an all-day dental implant procedure but I had no reason to worry at all – it all went perfectly.
I had no pain – nothing. Not on the day, or after.
It did feel a bit strange having new teeth in for the first time. When they were swapped for my permanent set, they made adjustments so the bite and fit was perfect."
"I don't think about my teeth any more"
"I don't have to think about my teeth any more, whereas before I did. I used to worry about it.
But you do need to care for them as they are an investment.
It's a lot more convenient than when I had dentures.
I just have to clean them normally, except I now use a waterpik.
I go for my hygienist appointments at TDC. I like sticking with the specialists who did the procedure and, being in the UK, I can just jump on a train and be there in two hours if I need to.
Nowadays, I go out a lot to eat and can enjoy my food. I don't have to avoid chewy and hard foods like I used to.
I can choose steak, Granny Smiths and corn on the cob.
I love the sound of the crunch of a Granny Smith apple. It's fantastic!
Now people say to me "You've got nice teeth and I say; "I know! Thank you!"
If you would like to learn more about the benefits of Smile in a Day same-day dental implant treatment and how the TDC team could help you regain a beautiful, secure smile, why not book your free, no-obligation consultation*?  Simply call 02035536415 and one our Patient Advisors will be delighted to help you.