Lynda's Smile in a Day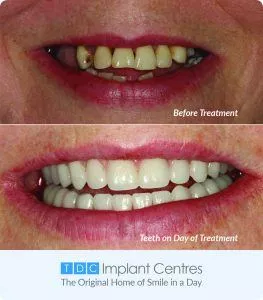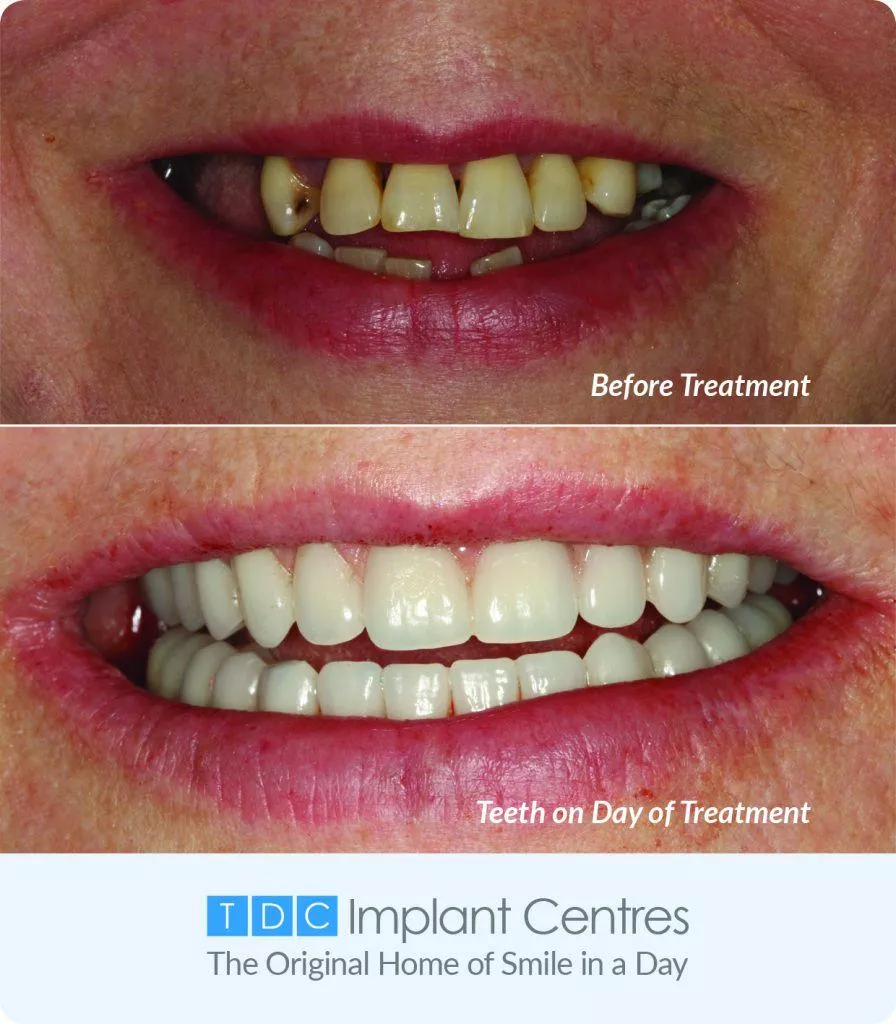 "I just knew that I didn't want something that I had to take out at night."
Lynda Moore had always hated anything medical, so avoided contact with doctors and dentists, only visiting the dentist when it was a real emergency.
Her teeth had deteriorated over a long period of time and, having had eight teeth removed, she was given a small partial denture. But the partial denture was loose and uncomfortable, so Lynda didn't ever wear it.
Eventually, some of her front teeth started to feel loose and began to move. She knew she had to find a solution – not only was she struggling with loose and missing teeth, it was painful.
So, despite feeling anxious, she plucked up the courage and made an appointment to see a local dentist who offered cosmetic dentistry.
"All my teeth needed to come out"
"I was really shocked when I was told that I had gum disease and all my teeth needed to come out. I had no idea that they were that bad. I felt belittled."
But a week later Lynda went back to discuss treatment options, which were:
1. For Lynda to have all her teeth removed. She would live with no teeth for about a month whilst the swelling went down, then she would be fitted with a temporary denture. (Also known as "immediate dentures," these are false teeth that can be placed as soon as your teeth have been extracted). This was the option recommended to Lynda.
2. To have all her teeth extracted and to be fitted immediately with a temporary denture, which would require repeated visits to the dentist to have it adjusted. At a much later date, there was the option for a clip-in denture to be fitted, at a cost of £15,000 – a high cost for a treatment that Lynda really didn't want.
"I was in quite a state. I knew I needed to do something, but I didn't know what to do.
For me it wasn't about the money. I just knew that I didn't want something that I had to take out at night.
I booked an appointment to see an NHS dentist, but I had to wait five weeks. That gave me time to think."
Discovering the solution at TDC
"For a couple of weeks, I kept looking at the internet and I kept coming back to TDC because I liked the pages on their website and reading the stories. They looked like the place I wanted to go. So I researched everything I could about TDC, even checking them out at Companies House."
Then one evening in May 2018, Lynda got a call from her sister telling her to watch primetime TV show 'This Time Next Year'.
"There was a lady on there having her smile transformed in a day with dental implants. I watched it and knew that's what I wanted to get, so I discussed it with my husband – I knew exactly how that lady felt."
"But I didn't realise at the time that the transformation on TV was actually being done by TDC! When I found out it really could be done in a day (implants and a full set of fixed teeth), I couldn't believe it.
The moment you meet Anthony (Zybutz) you know you're in safe hands. I was worried that they'd say there was nothing they could do for me, but they were wonderful and really understood."
"Life-changing isn't the word"
Today Lynda has a full set of upper and lower dental implants, and a beautiful new smile, and says "life-changing isn't the word."
"I really didn't realise how much confidence I'd lost over the years. I used to think about my teeth at night, and again first thing in the morning. I don't have that any more. No more dull pain. I feel healthier, and you can interact with people more."
"We've got tickets for Wimbledon. I hope the camera goes on us as I'm going to give a big smile!"