Debbie's Smile in a Day
Debbie's* dental problems started a couple of years ago when her teeth started to loosen.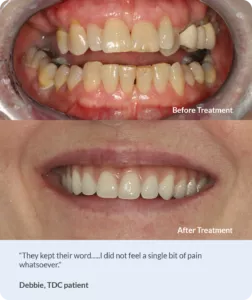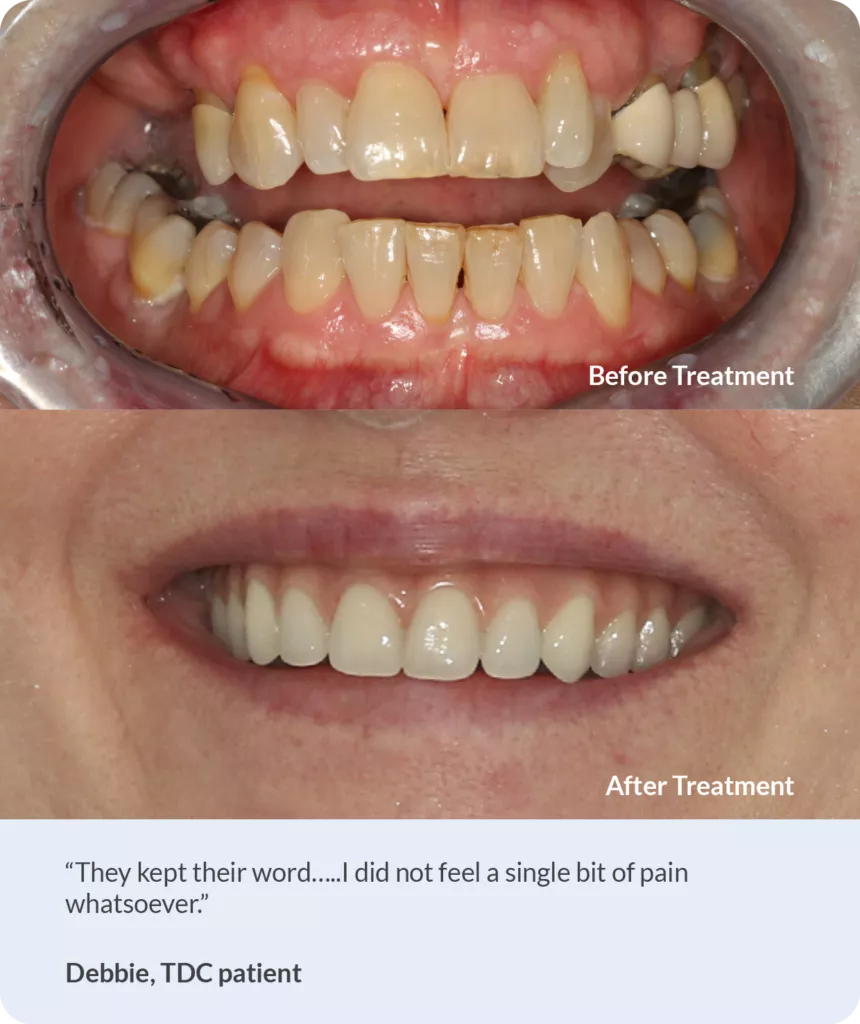 In October 2020 she had her full upper arch of teeth replaced on TDC Smile in a Day same day dental implants.
"I knew dentures were not for me"
"After my teeth started to loosen, two of my back teeth fell out. My dentist told me I needed to have a denture to replace the missing teeth, so he made me one to go at the back of my mouth.
I knew straight away that dentures were not for me. As soon as the denture was in my mouth I started to gag. I persevered but had to take it out to eat and it just made me miserable.
I looked into flexi-dentures as they clip into place and don't cover the palate. My dentist made one for me, and that helped until the bridge on the other side of my mouth became loose, which meant I could no longer have a flexi-denture.
At that point, my dentist said my options were to go back to dentures or consider dental implants."
How I found TDC
"My dentist recommended someone who could do dental implants, but I wanted to research for myself.
I'd remembered seeing TDC Implant Centres placing Smile in a Day implants on "Botched Up Bodies" and I managed to find the episodes online.
I looked into TDC and went for an initial consultation.
My husband really supported me – he said to go for it, that I had nothing to lose as he knew how miserable it was making me."
"They kept their word – no sedation and no pain"
"I am a very anxious person and was very nervous about the surgery, but I decided not to have sedation as I wanted to be 100% aware of everything that was going on.
I went into the Harley Street centre at 8am, met with Michael (TDC Lead Surgeon Dr Michael Zybutz) who reassured me that even though I hadn't opted for sedation, I would not be in any pain.
They kept their word. Michael numbed my mouth, and I did not feel a single bit of pain whatsoever.
After surgery when my dental implants were placed, Anthony (TDC Lead Dentist Dr Anthony Zybutz) was waiting for me and I rested whilst my first set of fixed new teeth were made.
That was the best thing – I went in with some teeth that morning and left with teeth that same day."
Seeing my new teeth and smile for the first time
"I felt elated when I saw my new teeth for the first time, it was fantastic.
It was a shock to see that they looked so great, and they were only the temporaries.
My husband couldn't believe it when he saw them. He was absolutely amazed and so was my son. Everyone said how great they looked."
My experience at TDC
"The TDC Harley Street team were fantastic – everyone was very welcoming and reassuring throughout the whole process.
They made sure I was always comfortable and could call up at any time if I had any worries."
"So pleased I had it done"
"Because my problems weren't visible from the front, lots of people couldn't understand why I'd had my teeth done.
But you couldn't have known all the problems I was having just by looking at me, so no-one else really knew how my teeth were loosening and how I had to wear a denture.
For some people dentures work fine, but it just wasn't for me.
I still feel young and I just couldn't face living the rest of my years with a denture. Apart from the gagging, having to take them out to eat, all the cleaning and putting them in a pot at night.
And I feel a lot more confident when I'm mixing with other people now. Before, I used to try to distance myself because of my teeth.
I never thought about going abroad for treatment, but I do know people who went to other dentists for their implant treatment.
To be honest, I did consider other companies myself – but I really wanted to go to the best."
*Name changed at patient's request