Sylvanna's Smile in a Day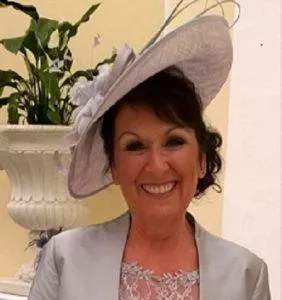 "Anthony gave me a mirror and said "smile". It was unbelievable!"
Before having her Smile in a Day treatment, Sylvanna had suffered for years with periodontal disease, although it wasn't diagnosed until she became concerned about her loosening teeth.
"It was horrendous," says Sylvanna. "I couldn't eat certain foods. I started losing teeth, had severe bone loss and couldn't smile, certainly not with friends or others outside my family. Eventually I would have lost all my teeth, no doubt about it."
"It really affected my social life. I would always think twice about accepting invitations and make excuses not to go out, especially if people would be taking photos."
"My daughter getting married was the push I needed to sort it out"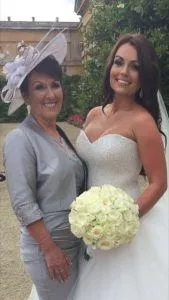 Sylvanna knew she had to do something when her daughter Stephanie decided to get married.
"It was the push I needed to sort it out and actually investigate doing something about it."
"Stephanie is not only my only daughter, she is my only child.  It was her big day and I didn't want her to be worrying about me. I needed to feel comfortable and not be thinking about the photos."
"I wanted a more permanent solution"
Sylvanna looked into her options. Although dentures were cheaper she knew she wanted a more permanent solution.  "The thought of taking them out at night – I couldn't see myself doing that!"
Having seen TDC dentist Anthony on TV, she booked her consultation with him first.
"When I was researching it, I booked two or three consultations. Once I saw Anthony and spoke to him, I didn't go anywhere else. Two brothers working together – there's a strong bond and you can tell their passion."
A beautiful smile in just one day
Sylvanna had her Smile in a Day treatment at the TDC Harley Street centre. Having had her pre-op appointments, her dental implants and fixed teeth were placed in a single day.
"It was just a day. Absolutely, just a day. I thoroughly recommend sedation as I was completely relaxed and didn't feel a thing."
And at the end of the day "Anthony gave me a mirror and said "smile". And I did. It was unbelievable!"
After three months Sylvanna had her final permanent set of teeth fitted. "You wait for your permanent teeth whilst the gums heal but it's not a problem as the teeth are fixed and look marvellous."
"You feel, " This is how I should have looked for all those years I put up with it."
In fact, Sylvanna was so happy with her new teeth and smile that she wrote to Anthony and said. "Mr Zybutz, I do believe you have made me look younger!"
The wedding day
Sylvanna had her beautiful new smile and her new-found confidence in time for Stephanie's big day.
"The wedding was at Blenheim Palace. It was a big event. It was amazing! The most amazing day of all our lives. I didn't have to think about anything apart from Stephanie…and me!"
At the wedding I was the one saying "Look at me! Take photos of me! We've got wedding photos everywhere!"
"A whole new lease of life"

For Sylvanna, dental pain is a thing of the past, she can eat normally, she looks and feels fantastic and is full of confidence. Her friends, family and colleagues were just amazed at the change in her.
And what would she say to others about TDC Smile in a Day?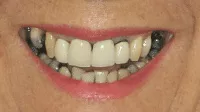 "There is nothing to fear. Only positives. I don't shy away or turn away from anything any more. I feel completely different – it's a whole new lease of life."