Wayne's Smile in a Day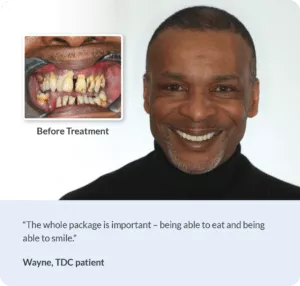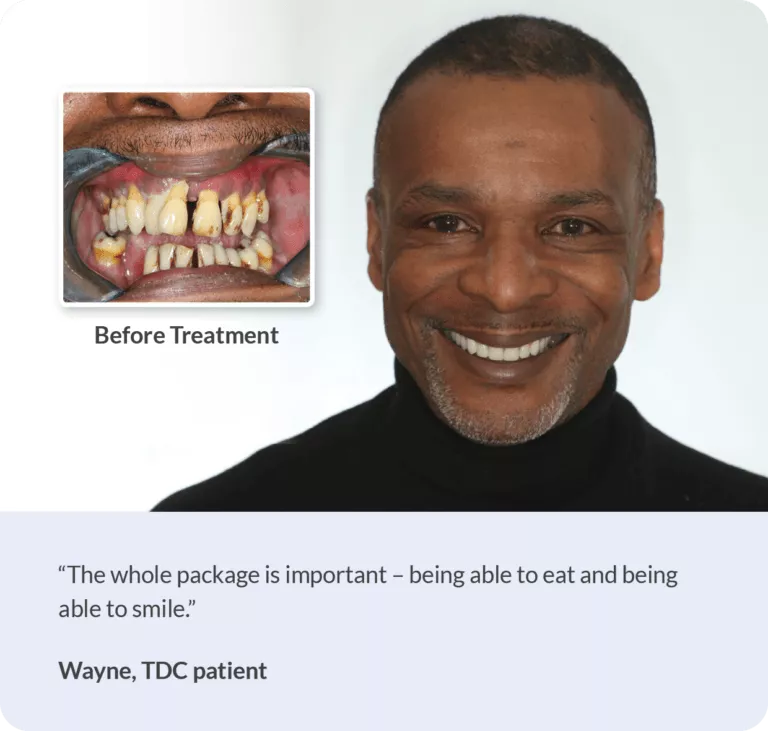 Total Dentalcare (TDC) patient Wayne Brown completed his Smile in a Day same-day dental implant treatment in late 2019.
He now has a full set of new upper and lower teeth, securely fixed on dental implants.
"My implants have completely changed my life.  I am a new person."
Not only that, his new smile won the award for the UK's Best Dental Makeover at the 2020 global My Face My Body Awards.
Before treatment, Wayne had lived with severe gum disease for many years and found himself with loose teeth that were gradually falling out, and wearing a partial denture in his lower jaw.
"I had serious gum disease and I was losing teeth"
"I had problems with my gums that affected my lower teeth first, then affected my top teeth.
It was serious gum disease. My gums were receding which meant that my teeth were loose and falling out – I had lost all my back teeth.
I had to be careful about what I ate – I couldn't eat things like crunchy apples and wasn't able to chew meat.
And I couldn't laugh and smile as much as I wanted to."
Finding TDC Implant Centres
"It got to the point where my usual dentist advised me that I would eventually need to have all my teeth replaced.
We discussed my options, including full dentures – which I didn't want – so I decided to look into things myself.
I heard an ad for TDC Smile in a Day when I was listening to LBC radio. I looked them up, read the information and patient reviews on their website, and booked my consultation at the Harley Street Centre.
"My experience at TDC was good from the start."
"When I went for my initial consultation, Anthony looked at my teeth and, after I'd had the x-ray, he confirmed that I did need all my teeth replaced.
We talked through all the treatments I could consider and I decided that, although it wasn't cheap, having Smile in a Day dental implants would be worth it.
I could keep trying to have individual teeth fixed, but that wasn't a permanent solution and would be a waste of money."
The day I got my smile back
"When it came to surgery day, I was nervous.
I arrived for 8am and they had explained that I would be there all day.
During surgery I was semi-awake as I chose to have sedation. The team were around me and they reassured me, and they listened to music.
I felt very comfortable and hardly felt a thing.
The only discomfort I felt was a bit the next day, but I took the medication they had given me, and it was all fine. My face was swollen for about a week and I stuck to soft food."
Seeing my new teeth for the first time
"When I looked in the mirror at the end of the day, I felt confident – I felt better.
I felt my confidence come back, even though it was just the temporary (fixed) teeth.
I had the confidence to smile."
Living with my new teeth and smile
"My permanent teeth (fitted about three month later after the healing phase) fit even better.
It took a little bit of getting used to the feeling of having new teeth, and my speech was a bit different for a bit, but now I don't even realise I have them in.
Now I can eat, no problem – even crunchy apples – and with my front teeth.
I enjoy a full diet now, I can chew meat, just as if I had natural teeth.
I only told a few friends and family that I was having my teeth done. Some didn't even notice as they look so natural, others asked me how my teeth looked so good!
For me the whole package is important – being able to eat and being able to smile."
"I would definitely recommend TDC"
"At every stage of my treatment at TDC, I felt comfortable and reassured.
They told me how to look after my new teeth and I've not had one problem.
I'm happy to laugh and smile now.
If you have the money, I would definitely recommend TDC – the treatment is top notch.
Anthony has done a great job!"