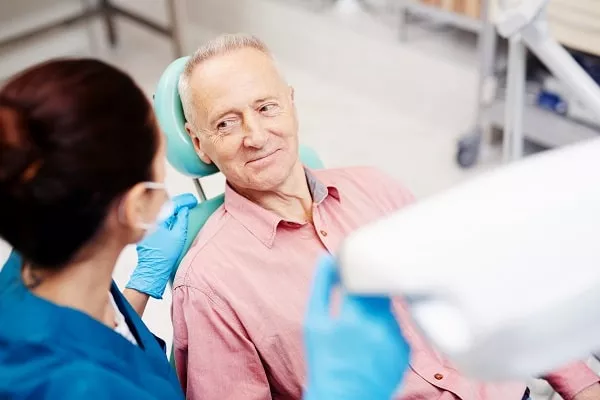 21 Oct 2020
"I sat here and cried for 40 minutes before they managed to get me to say anything. To them (TDC) it wasn't silly, and they made me feel so relaxed."
When Helen came for her initial consultation at TDC, it took half an hour before she felt able to sit in Dr Anthony's chair. She was incredibly nervous.
Her fear of visiting the dentist started when she broke her teeth in a fall when she was 18. Over several years of bad dental treatment experiences, she was left with lasting pain, wearing a denture plate and with a dental phobia.
It took a lot of courage to finally seek the help she needed, but now, after having full upper and lower jaws of teeth restored on dental implants at TDC, her dental health is restored and she loves her beautiful new smile. In fact, she says: "It's like coming to see a friend rather than coming to see a dentist."
Over 20% of UK adults are frightened of going to the dentist
Helen is not alone. In fact, according to the Oral Health Foundation, about a fifth of UK adults are nervous about going to the dentist, and around six million suffer from more extreme dental phobia.
This fear means that many people avoid going to the dentist and avoid routine dental care, essentially neglecting their teeth and dental hygiene. They become vulnerable to a build-up of dental problems such as tooth decay and gum disease. When ignored over time, these problems can become more serious, harder to treat and more extensive dental solutions are needed. This can result in more invasive dental surgery, and increase already heightened anxiety.
Caring for nervous patients at TDC
"At TDC we help people with such serious dental problems that they usually need at least one full jaw of teeth replaced on implants, often both, says Dr Anthony Zybutz, Lead Dentist at TDC Implant Centres. "A high percentage have neglected their dental care due to their nerves. Eventually their loose and missing teeth or dentures mean they can't eat normally, their speech may be impaired, and they are too ashamed of their teeth to smile.
We understand how much courage it can take for nervous patients to pick up the phone to book a consultation or even walk through the door of a dental practice. The thought of surgery can make anyone feel anxious – and that is magnified when you are already frightened of dentists and, as is often the case, embarrassed of your own teeth.
Everything we do is designed to make them feel comfortable and re-assure them that they are in the safest hands. It's why we've won so many awards for our outstanding clinical and patient care. And we're very proud that we won in the "Best Patient Care" category at the 2020 Dentistry Awards and were selected as Finalists in "The Best Treatment of Nervous Patients" category in the 2020 Private Dentistry Awards.
Here's how we help and re-assure anxious patients
We offer specialist-led clinical care – you're in the safest possible hands
It's natural to worry about whether surgery will be successful or not. In the hands of an experienced surgeon and dental team, the Smile in a Day technique can be a life-changing. Clinical care at TDC is led by Specialist Periodontist, Dr Michael Zybutz; patient care by his brother Anthony. Both have restored teeth on implants for over 25 years, providing the same-day implant technique for over 10 years.
They are renowned for successfully treating the most complex cases – people are often referred by general dentists due to our specialist skills (to be a UK registered specialist like Michael, a dentist needs to undertake at least three years additional training in their dental field, after qualifying as a dentist). We routinely help people who have been told that they do not have enough bone for dental implants and that false teeth are their only option. Our highly qualified and experienced teams deliver consistently outstanding results, ensuring the perfect fit, function and aesthetics. It really is the solution closest to natural teeth.
We have won multiple awards for our patient care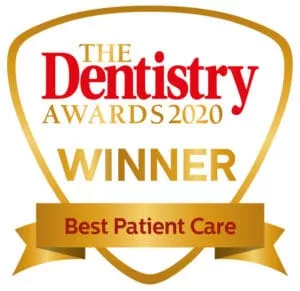 We ensure that you are cared for and supported at every step. Every member of our team is highly trained, knowledgeable and very approachable. Every patient has a dedicated Patient Co-ordinator to support them through their treatment – arranging your appointments, keeping you updated at every stage and even being there for you on surgery day. We work in partnership with you throughout, so you get the very best treatment and the results you are looking for.
Our Smile in a Day treatment is ideal for nervous patients
Smile in a Day is less invasive and takes much less time than traditional implant methods. It is a clinically-proven technique where any necessary extractions, dental implants and a first set of fixed teeth are placed on the same day. You leave on the day of surgery with a new smile in just a matter of hours. Your new fixed teeth remain in place night and day until they are exchanged for your final set at a non-surgical appointment about 3 months later.
So, the number of appointments are reduced, and only one surgical procedure is needed. And most importantly for our nervous patients, there is only one night before surgery.
TDC Smile in a Day is a one-off treatment as all your problems are solved in one go. Once placed, and if well-cared for, your dental implants can last a lifetime. One of the key benefits of the Smile in a Day procedure is that it restores your oral health, so there's no more dreading visits to the dentist because of on-going pain and infections. Our patients are automatically enrolled on our Maintenance Programme to ensure your implants are regularly checked, helping to avoid problems in the future.
The TDC Smile in a Day procedure is virtually pain-free
Anxiety around pain is very common – many of our patients are amazed how little discomfort they actually feel during and after surgery, and our patient reviews often highlight how they experienced little or no pain.
During surgery, all patients are gently administered with pain relief. Most also opt for conscious sedation which is safely administered by a specialist anaesthetist who stays without you throughout your surgery. With this form of sedation, patients remain awake but feel totally calm and relaxed – many describe sedation as being in a dream-like state, and most remember nothing about the procedure afterwards. It is ideal if you are a nervous patient.
As with any surgical dental procedure a small amount of swelling and bruising is normal, but any minor post-surgery discomfort is treatable with over-the-counter medication such as paracetamol or ibuprofen.
Our teams are committed, well-trained and caring
Patients choose us for peace of mind. Our patients are treated with respect and warmth from everyone at TDC. We want your treatment with us to be as stress-free as possible – and for it to be a life-changing experience. You will meet the team who will care for you – we know this helps you to feel more comfortable and less nervous.
Everyone at TDC is highly trained and has defined roles and responsibilities to make sure that every element is smooth-running, instilling confidence. Our clinical and aesthetic results are consistently outstanding.
We use the highest quality implants and materials for proven results
We never compromise on patient safety or quality to cut costs. We use the highest quality implants and materials with proven results as we know that this ensures the best possible short and long-term outcomes. We use an advanced implant with a built-in angle that provides a stronger base for the bridge of fixed teeth that is secured on top.
Patient safety is our priority
Our clinical staff are highly skilled and experienced, our surgeries are equipped with state-of the art equipment, and we have always maintained the very highest standards of rigorous patient screening.
We follow stringent infection control protocols and strict Covid-19 screening including:
o Creating a sterile surgical environment
o Surgical scrubbing up – failure to do this properly can be a key source of spreading bacteria
o Fully draping patients during surgery
o Appropriate use of antibiotics.
Our centres are welcoming and relaxed
Our calm, professional surroundings are designed to make all patients feel welcome and relaxed – our waiting rooms are airy and comfortable. Many patients bring someone with them for support – they'll be well looked after too.
We take time to really listen
At your first consultation, your dentist will spend a lot of time just talking with you. This will give you the chance to explain your problems and wishes and to discuss your concerns and options – we encourage you to let us know if you are a nervous patient and will take things at your pace. We encourage you to ask questions about the treatment and our team so that you feel fully informed. We will never rush or pressure you. We will always be honest – if we don't think Smile in a Day is the right solution for you, we will discuss alternatives together.
We will never make you feel judged
Sometime people are frightened and embarrassed of coming to the dentist as they think they will be judged due to the poor condition of their teeth. At TDC we are used to seeing the most advanced cases of gum disease and bone loss – we will never make you feel bad about your problems, we just aim to solve them for you. This includes patients who smoke. We realise that not smoking can be an extremely hard challenge and we will fully support you. Committing to implant therapy with Smile in a Day is an excellent time to draw the line in the sand regarding no more smoking.
We help patients with a gag reflex
If you worry about gagging during treatment, it is not your fault – it is the result of being nervous. After all, it is a gag "reflex." There are a number of options for reducing the gag reflex – and acupuncture is actually one of the best. Done at the time of treatment, it can make a huge positive difference. Relaxation techniques such as deep, controlled breathing can also help.
For people with more serious gagging reflexes, sedation is an option. At TDC we use sedation for more complicated and longer sessions, ensuring that your dentist can still complete the very best treatment.
We encourage you to read our reviews
Reviews are the best way of learning about a dentist, their dental treatments and the experience they offer. Our reviews are independently verified on Trust Pilot and Feefo, showing they're genuine, unedited and trustworthy. We also show them on our website. Many are written by Smile in a Day patients who had a fear of the dentist before coming to TDC. New patients can speak directly with people who have undergone Smile in a Day if they wish, to hear about their experiences first hand.
If you are considering dental implant treatment but are nervous, why not watch some patient testimonial videos, read case studies and our reviews? Or you can speak with one of our friendly Patient Advisors by calling 02035536415..