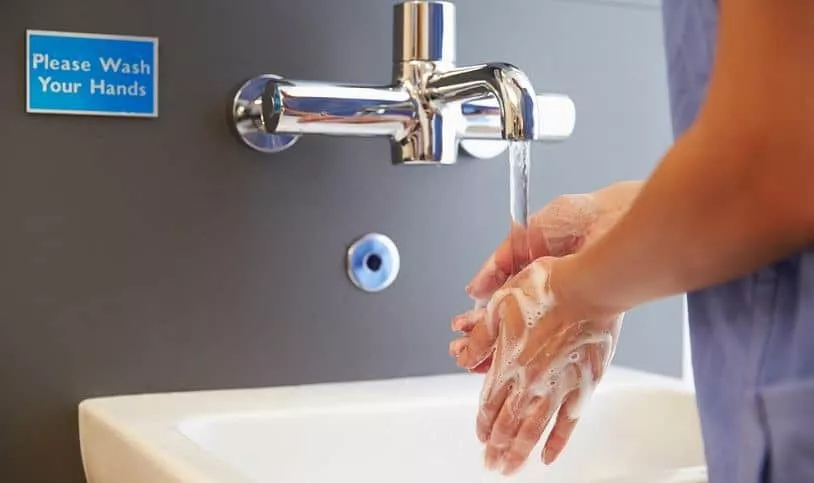 28 Nov 2016
If you're considering having dental implants you may have been alarmed by recent newspaper headlines warning that it's possible to develop septicaemia from the procedure.
Septicaemia, also known as blood poisoning or sepsis, is a potentially life-threatening condition in which harmful germs (bacteria) invade the bloodstream.
"For over 20 years we've never had a single case of septicaemia at TDC," says Dr Michael Zybutz, Lead Surgeon at Total Dental Care Implant Centre (TDC) in Harley Street. "That's something we're incredibly proud of."
 Septicaemia explained
"It's possible to get septicaemia from something as simple as a fall, or cutting yourself while chopping vegetables in your kitchen," says Dr Zybutz.
"Our body is full of bacteria, even during normal functioning, and generally our immune system is able to kill harmful bacteria that pose a threat to our health. When bacteria gain access to areas normally not open to them, or when harmful bacteria invade the body, septicaemia may result. Septicaemia is now on the rise, especially in hospitals, because there's been an increase in antibiotic-resistant bacteria. We simply don't have the range of effective antibiotics we had before."
Putting safety first
TDC's track record with infection control is exemplary, and its highly experienced cosmetic dentists place the highest possible emphasis on patient safety. Dr Zybutz explains that TDC maximises successful outcomes, including avoiding septicaemia, by doing the following:
• rigorously screening patients to minimise risk factors
• creating a sterile work environment
• scrubbing up thoroughly
• using appropriate antibiotics
• working as a team
Rigorously screening patients
"The best way to avoid septicaemia is a proper protocol starting with the selection of patients," says Dr Zybutz.
"Some people are more susceptible to infections such as septicaemia if they have chronic health issues or have had some types of radiation therapy. Recreational drug users and people taking certain prescription drugs for conditions such as osteoporosis and cancer are also more at risk."
"That is why we take a very detailed medical history before placing dental implants, and if there's any doubt about a patient's suitability for having dental implants we consult with their GP or other medical specialist, as appropriate."
Creating a sterile work environment
"The human mouth is full of bacteria," says Dr Zybutz, "but what we don't want to do is introduce the type not usually found there which may mean that patients with weakened immune defences cannot resist this new bacterial invasion."
TDC utilises the very best techniques and procedures to sterilise all the equipment used, and also uses disposable sterile gloves, masks and gowns.
"Even though we're not obliged to do it, we think it's vital to fully drape both the patient and all surfaces with sterile surgical drapes when placing implants in order to ensure the operating environment is as sterile as it possibly can be," says Dr Zybutz.
Scrubbing up thoroughly
Another key infection-control measure is being scrupulous about scrubbing up. Thorough hand washing is vital to rid the skin of bacteria so that these cannot be passed on to the patient. Failing to scrub up properly has been shown to be a key cause of the spread of bacteria.
"We always do a proper surgical scrub-up ‒ like you'd see in a hospital ‒ where we wash and scrub both our hands and forearms with antiseptic solution before every patient procedure as research has shown this is vital for effective infection control," says Dr Zybutz.
Using appropriate antibiotics
Prescribing antibiotics is another way that the expert dentists at TDC ensure all procedures are free of complications.
"We ensure patients take an appropriate regime of antibiotics before, during and after the procedure to help not only avoid septicaemia but to also minimise the chances of antibiotic resistance," says Dr Zybutz. "This means the antibiotics are in the patient's bloodstream before we even pick up an instrument."
Working as a team
Having dental implants is a very safe procedure provided they're correctly placed by an experienced and fully qualified dental team.
Dr Zybutz credits his tight-knit team for TDC's impeccable infection-control record: "My team is the very, very best," he says.
"They're all highly competent and we rely on and trust each other completely. In fact, anaesthetists often comment on how closely we work together and have used TDC as an example of good teamwork when lecturing to other dentists. Quality underpins everything that we do – our staff, the highest quality dental implants and state-of-the-art equipment, infection control standards, and patient care."
Transforming lives
Dr Zybutz says that it's incredibly rewarding working at TDC because they're able to transform the lives of patients with serious dental issues by giving them a perfect smile using the revolutionary Smile in a Day teeth treatment. "Our patients often cannot believe what a difference dental implants can make," he says.
"Take one of our case studies John Loach, for example. Having avoided dentists for 30 years ‒ and smoked for 40 years ‒ he came to TDC with only a few teeth remaining in his upper jaw meaning he could only eat very soft food and was embarrassed to smile. After having dental implants he's now able to eat whatever he likes and says he's now brimming with confidence and absolutely delighted with his new teeth."
In safe hands
John Loach isn't the only patient who's keen to talk about the positive impact TDC implants have had on his life. "TDC subscribes to Feefo, a totally independent online patient review system where it's possible to leave genuine, unedited feedback on our Smile in a Day treatment," says Dr Zybutz. "We think the number of five-star reviews we've received speaks volumes about the results we have achieved for our patients, their faith in us ‒ and our safety record."
To find out more about Smile in a Day, get in touch with one of our friendly Patient Advisors by calling 02035536415 or by booking a free consultation.