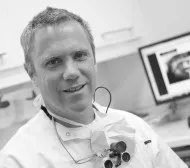 25 Apr 2016
From Dr Anthony Zybutz
We talk a lot on this blog about all the details that go into our Smile in a Day treatment.
Whether it's the materials the implants are made of, our planning process, or the scientific research that informs our treatment, we want to make sure our patients understand every detail of the service we offer.
While new patients want to know about all these elements and are reassured by the expertise we have developed over decades of experience, there's one question that both my brother and I are asked that no textbook will ever answer – what it's like to be a dentist in this specialist area of the profession? What is most rewarding and what are the biggest challenges we face?
A very moving experience
Let's start with the easiest question. I was talking to my brother Michael the other day who carries out the surgery here at TDC, and this is what he said: "Patients are so delighted when they see what we've been able to do for them, and it's impossible not to be moved by it. You can't ever get blasé about it – to see people crying, the whole family hugging each other, is so rewarding. They will say it's the best thing they've ever done in their lives, and I ask them if they mean best in terms of dental care. And they say 'no, it's the best thing in my whole life'."
I can identify with him, because I feel the same. As Michael says, you never get used it, and we feel so privileged that we can help give people their smile – and their confidence – back.
The follow-up question is normally about the worst bit of the job. And that's always difficult because in all honesty, there isn't one. Yes, there are challenges, but when the rewards are so high, they pale into insignificance.
If I were pushed for an answer, I'd say the very fact that people are so moved by their treatment is the biggest emotional challenge for us too. When I first meet a patient for their initial consultation, they can often be very tearful. I'm meeting them to learn all about the difficulties they've had with their teeth, and telling their story can be upsetting for them.
But while it can sometimes bring a tear to my own eye to see people being so open and honest, I actually find it inspiring. It's what motivates me to do the very best job I can.
And although it's a very emotional time for all of us, I am already thinking of that day not too far in the future when I can hand them a mirror and show them what TDC has been able to do. That first consultation is the beginning of a transformation and it's exciting to know what lies ahead.
If you would like to know more about our Smile in a Day treatment you can arrange your free consultation here, or call 02035536415.