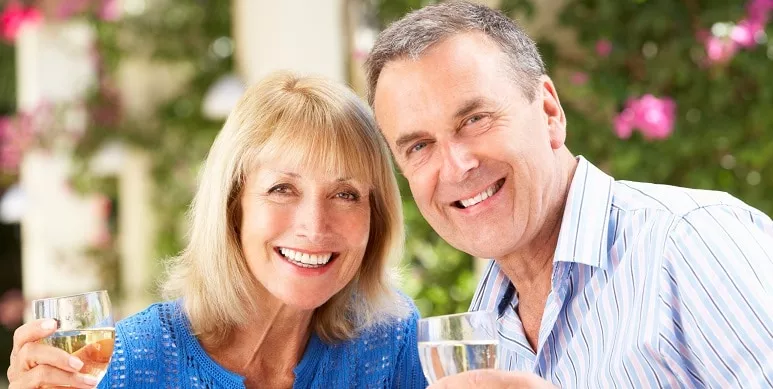 08 Dec 2020
"The wonderful things about having Smile in a Day dental implants is that your smile can be literally transformed in a matter of hours.
Our patients arrive with loose and missing teeth and leave later that same day with a beautiful new set of teeth secured on implants.
It's just wonderful to see their self-confidence flooding back," says Dr Anthony Zybutz, Lead Dentist at TDC (Total Dentalcare) Implant Centres.
"We call it the "Reveal Moment" – when you see your new teeth for the first time. It's usually the first time in years that our patients look in the mirror and see a beautiful smile reflected back at them. It's always very emotional – for me as a dentist as well as the patient."
The benefits of dental implants are well known. Well-placed implants solve all the problems people live and struggle with when they have loose and missing teeth – dental pain and discomfort, slipping and uncomfortable dentures, problems eating normally, fear of losing more teeth and low self-confidence.
The importance of loving your smile
But at TDC we know that fixing these problems is just half of the story – how your new teeth look is also hugely important. Being able to smile confidently again can make such a difference to how you feel about yourself and how you interact with other people.
Before treatment, many of our patients are so embarrassed by the appearance of their teeth that they cover their mouths with their hands when they speak. Some even avoid social situations entirely.
"Unless you have suffered with severe dental problems and felt too embarrassed to smile, you can't really understand how much it means to people to get a beautiful smile back," says Dr Anthony.
"It really changes lives."
What makes the perfect smile?
"You might imagine that everyone wants a bright, white Hollywood smile," says Dr Anthony. "For a time, that was the fashion. And if that is what our patients ask for, that is what we can give them.
But you'd be surprised. The majority of our patients tell us that they just want a natural-looking smile that reminds them of how they used to look.
In fact, the trend in UK cosmetic dentistry, especially with people over 30, is a move back towards embracing your perfect imperfections – those small imperfections that make you who you are. In short, the focus is on being the best you, not about looking artificial or one style suits all.
Subtle, natural-looking teeth enhance rather than dominate your facial features and let your personality shine through.
They want to see the smile they had when they got married, the one their partner fell in love with.
"My wife said I look just as I did when we first met 37 years ago….Thank you TDC for transforming my smile," says one patient review on Trust Pilot.
For these patients, the ideal treatment result is when friends and family notice something different and happier about them, but can't immediately pinpoint new teeth as the thing that has changed.
But what really matters – whether you choose dazzling or more subtle – is that each patient gets both the clinical results and the smile that they really want."
Creating bespoke smiles at TDC
From the time that you come for your first consultation at one of our implant clinics, we listen to you; about how your smile used to be and how you would like it to be. We consider the size, shape and colour of your original teeth, as well as your facial structure and skin tone. We also factor in your personality.
We look at old photos and listen to what you want, as well as advising and discussing the options. We discuss and agree everything together – then we design your new teeth.
It's all about the individual and what having a perfect smile means to them – taking care and an absolute attention to detail. That is what enables us to deliver outstanding natural-looking results that are totally bespoke to you.
Two sets of bespoke teeth, securely fixed on implants
With the TDC Smile in a Day procedure we place two sets of fixed teeth – both sets are designed specifically for your personal needs and requirements. Every patient is different.
The first set is placed on the day of your implant surgery. We make them look, fit and feel as perfect as possible so you instantly love your new smile.
At TDC Implant Centres, it takes about 8 weeks for your bone to integrate with your implants, and during that time your gums will settle and heal. So, although they are secured on your dental implants and stay in place night and day during the healing process, the first set is actually only a temporary fixed bridge.
During this time, you get used to living with a full set of new teeth, adjusting to how they feel in your mouth and seeing how they look. It's a chance for you to work out if you want any changes to the size, shape and colour.
We understand that it can be hard to know exactly what you want at the start of the process and until you actually see them in place.
Your permanent set are also totally bespoke to you, incorporating any refinements you would like to make.
They are honed and refined with great care by leading dental technicians ensuring a perfect fit with your new gum shape and colour, restored bite function so you can eat normally, and beautiful aesthetics.
Expert craftsmanship – a blend of art and science
At TDC the people who create your new smile are all experts in their fields- whether it's our Lead Surgeon Dr Michael Zybutz who places your implants with absolute precision, our highly experienced implant dentists who work with you to design and fit your new smile, or the outstanding technicians who mill, cast and craft the actual teeth.
We use the latest technology and techniques, and every aspect of your treatment is underpinned with excellence, meticulous attention to detail and the highest standards in every aspect of your treatment.
And using the highest quality, proven materials is crucial, so we can achieve the very best colour and texture, and a life-like creation.
Restoring your confidence
"Having stable, functioning new teeth that give you the confidence to smile without feel self-conscious can be life-changing," says Dr Anthony.
"At TDC we understand it's about the whole package. We're here to solve your problems AND give you the perfect smile you've always dreamed of. No detail is too small – we really care about getting it right. It's all part of the service."
"When I heard about TDC, I realised they were the answer to my prayers. The team are perfectionists, and in a day replaced my crumbling, worn out teeth with a beautiful full set of implants that will last a lifetime. Thank you TDC, I wish I had come to you years ago." Trust Pilot March 2020
"Since having the treatment, I can't stop smiling and am able to eat everything and anything! My confidence has been completely restored. And the positive comments I have received from friends and family since having my permanent teeth have been fantastic." Trust Pilot April 2019
"My new teeth look amazing and I am no longer embarrassed by the gaps in my smile." Feefo September 2020
Book your free consultation*
The TDC Smile in a Day dental implant treatment restores oral health and perfect smiles with just a single surgical procedure, without the need for bone grafts in the majority of cases.
Our award-winning, highly skilled teams routinely help people who have been incorrectly told by their own dentist that their extreme gum disease and bone loss makes them unsuitable for dental implants.
If you would like to see how treatment at TDC could give you your perfect smile, why not book a free, no-obligation consultation*? We have centres in Harley Street, Folkestone and Peterborough.