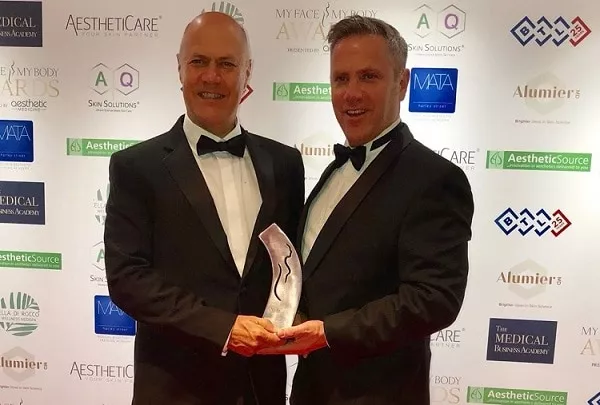 21 Mar 2018
On March 17th, TDC Implant Centres were delighted to win the Best Customer Experience Award at the My Face My Body Awards 2018. These global awards celebrate innovation and customer excellence within the aesthetics industry.
Below, TDC's Dr Michael and Dr Anthony Zybutz talk about winning the award and why patient care is so important to them in the dental implant process.
How did you feel when you were announced as winners?
MZ: Fantastic! Being shortlisted as a finalist – in probably the most competitive category – was daunting; we take patient care very seriously and here was a way to have our efforts independently verified and rewarded. We really wanted to win.
When TDC were announced as the winners we were so excited we jumped out of our seats and hugged each other. We then all went up onto the stage to receive our award.
Why does winning this Best Customer Experience Award matter to you and your team?
AZ: Each one of our patients has their own story to tell and their own reasons for needing treatment before they come to us.
They choose us at TDC for our consistently outstanding results, the very highest standards of patient care throughout the treatment process and beyond, and a life-changing experience. So, we put a huge amount of effort into making it a really positive and life-affirming experience for each patient as an individual.
MZ: Yes, it's really gratifying to receive an award that is all about customer service. We are also very proud of our five-star patient reviews on Trust Pilot and Feefo. They are all independently verified which is important so that they can confirm to us that our patients agree that we really are doing the best job. They also help and re-assure people considering the treatment that they can have peace of mind when they come to TDC.
What were the criteria for entering the awards?
AZ: The first step was to submit a very detailed entry form and additional material, all showing how patient care is at the very forefront of what we do at TDC, and then encourage people to vote for us.
Once we were confirmed as a finalist, we were told we would be visited by a mystery shopper who actually comes into the practice and has a consultation. We still don't know who the mystery shopper was or when they came in, but we do know that they were very impressed! Finally, a panel of judges looked at everything to make a final decision.
What makes the patient care at TDC so exceptional?
MZ: Everything we do is underpinned by the highest standards of clinical excellence and patient care – it's what we are known for. We believe that quality matters – our patients are taking an important step that affects their overall quality of life, and they are making a significant investment in their well-being. This is our patients' health – only the best will do.
This ethos runs through both our clinical team and our patient contact team so that our patients are thoroughly cared for from when they first contact us right through their treatment and onwards to maintenance of our work.
AZ: We make sure that we are the very best on every level. We offer specialist clinical care using the latest technology and use the highest quality implants and materials to deliver consistently outstanding results. These things combine to give real peace of mind.
Michael is a Specialist Surgeon and Periodontist with over 25 years' experience in placing implants, which means we can treat even the most challenging cases – even people who have been told that nothing can be done for them.
Does it make a difference that you are brothers?
AZ: Yes, I really think it does. As the Lead Surgeon, Michael performs the surgical procedure and, as the Lead Dentist, I ensure the perfect look, fit and function of the teeth. Being family, we work seamlessly together.  We just both know how the other one works.
MZ: I also think it sets the feel and the culture at TDC – we are family run and proud of it. I think patients appreciate our culture of warmth and trust – once you come here you become part of the TDC family.
So what is the secret of your success?
MZ: Without a doubt – our fantastic team. The people who work at TDC are chosen for their skills and experience, but also for their caring approach towards our patients. Everyone at TDC is the very best at what they do – professionalism on every level is paramount – and they all care as much as we do.
What do your patients say about you?
MZ: We have hundreds of independent reviews and video testimonials and it makes us very proud to get such positive feedback. An example:
'Viktorija who looked after me during my rest period was so kind and caring. Dr Michael Zybutz is a truly amazing surgeon and I can never thank him enough for giving me the smile I always dreamed of.
My advice for anyone contemplating this procedure with TDC Implant Centres is "do it, you will not look back". It has given me confidence, happiness and most importantly a smile that I could only dream of.'
What should someone do if they would like to know more about TDC and your Smile in a Day procedure?
AZ: We aim to provide as much information as possible on our website to help inform people.
We offer a free, no obligation consultation* at all of our three implant centres (Harley Street, Folkestone and Peterborough). These can be requested online or by calling 02035536415. Our friendly and highly trained Patient Advisors can answer any questions and book in consultations.